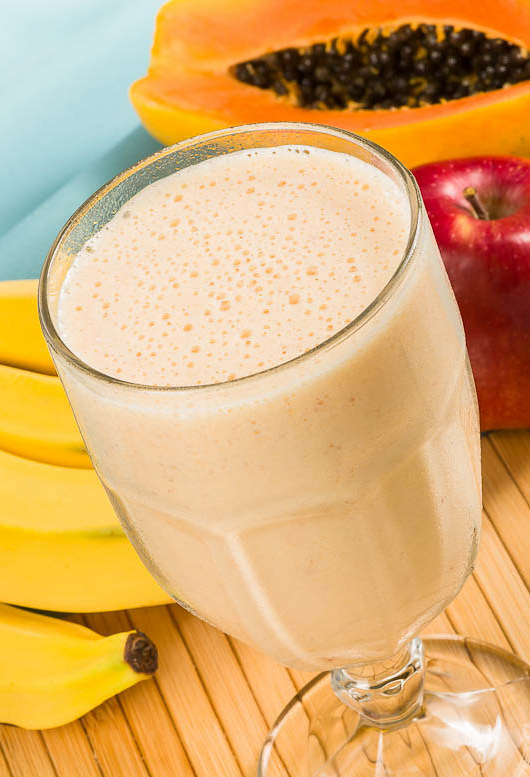 Let's face it – when you live in Hawaii you tend to take papayas for granted, as they're everywhere… literally growing on trees. You often need a change-up from just slicing it with a touch of lime. And if you're getting a lot of papayas regularly, you'll need even more tricks that save them before they go bad. One of my favorites is chopping them up and freezing them, and using as a great papaya banana smoothie base. Kids love a nice cold smoothie treat on a hot day or for an on-the-go breakfast with a muffin. These takes on a simple papaya banana smoothie will keep things interesting!
So here's your quick papaya banana smoothie base:
1 C frozen papaya cubes
1-2 apple bananas
3/4 C milk/liquid of choice
Blend until it's how you like it
If you want it extra slushy, freeze the fruit before blending or add some ice cubes (good for extra water intake during the hot days). Too thin? Add more frozen fruit. Too thick? Add more liquid. Smoothie 101.
Now comes the fun part – add-ins.
The base is ok on its own but adding in different flavors keeps everyone from getting bored. There are so many possibilities and ways to make it never taste the same! Here are some go-to ideas:
1/2 C other fruit: mango, pineapple, dragonfruit, melon, whatever is in season, your neighbors shared, or you grabbed from your CSA
1" chunk of chopped ginger for a zip, olena (turmeric) if you're adventurous, or a dash of vanilla and cinnamon if you like it sweet
1/4 C greens like spinach or kale, leftover poi, or cooked carrots for extra sneaky nutrition – blend these first with just the milk before adding other items to make sure it's smooth
Replace half the milk with yogurt for extra protein and creaminess, fresh squeezed citrus juice for tang, or even coconut water or milk for different textures
Coconut flakes
Touch of honey or dates for extra sweetness
Mac nuts or nut butter for some protein
Don't finish a big papaya banana smoothie batch?
Freeze it and serve sorbet or ice cream later. Or scoop it & blend it again, top with some local granola and fresh fruit and you have a healthy (and cheap) smoothie bowl made at home.
What do you like to add in your papaya banana smoothies?