This Harm Ha with Ong Choy recipe is shared by Maurice Payes a local Pakala, Kauai boy who spent his long summer days fishing, diving, and surfing in the ocean. Now living on Oahu he spends time with family who have also moved from the humble plantation village of Pakala to the big city. 
Weekly family dinners are more like feasts with sparkling trays of homemade meals crowding every corner of counter space. You can find chef Maurice at the hub of this kitchen, pulling piping hot dishes out of the oven or off the stove. Best known for a number of his specialties like kimchi soup with ika or grilled garlic butter shrimp… let's just say, anytime the family needs a recipe they know who to call.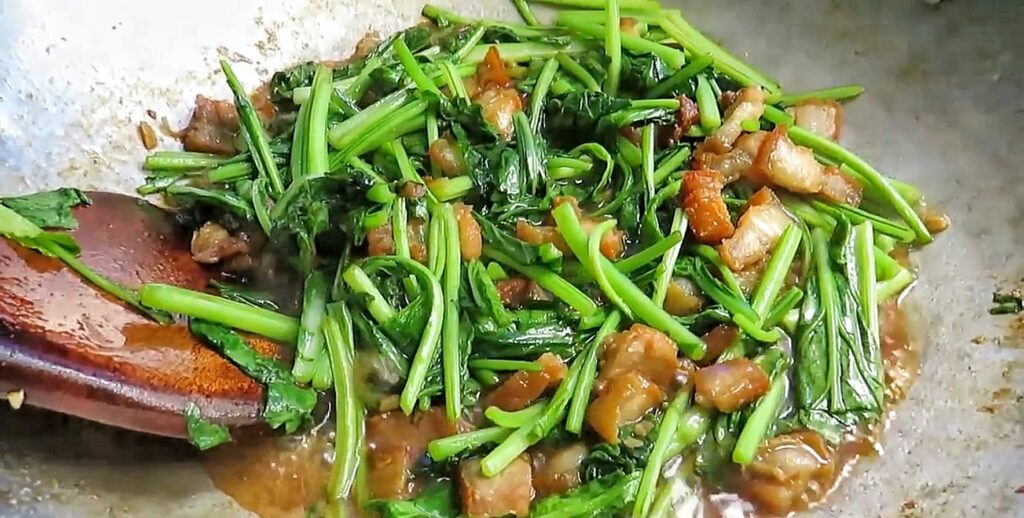 Harm Ha with Ong Choy
Ingredients:
1-2 Tbs Harm ha (shrimp paste)
3-4 large Garlic, chopped up
1-2 Chili, depending if you like it spicy
1-2 bunches Ong choy, depending on how big the bunch, cut into 2-2.5 inch pieces
1/2-1 lb Pork belly, depending on how much pork you like, cut into thin pieces
1/4 cup Vegetable oil
Instructions:
Heat up the oil in a pan over medium high heat. When oil is hot add in pork belly carefully. Cook the belly till brown.
When the belly is brown, if there is lots of excess fat and oil, remove some (not all) so the dish won't be greasy.
Lower the heat to medium and add in the garlic and continue to stir so the garlic doesn't burn.
When the garlic has cooked for a few seconds add in the chili, if you are adding chilies, and cook for a few more seconds again.
Next add in the harm ha and cook the paste for a few seconds, as well. If the heat is too strong, turn it down so you don't burn all of the ingredients you have added so far.
Next, if there isn't oil in the pan anymore, you can add back the oil and fat you removed earlier and turn the heat up to high.
Now, quickly add in the ong choy and stir to wilt and cook the ong choy.
If the bottom of the pan is too dry you can add a small amount of water to help create steam to help cook the ong choy faster and deglaze all the flavor off the bottom of the pan.
Once the ong choy is wilted and cooked to your liking you can take the pan off the heat and serve.
Share your own Kaukau 4 Keiki inspired recipe and be entered into our weekly recipe contest!
Details here.