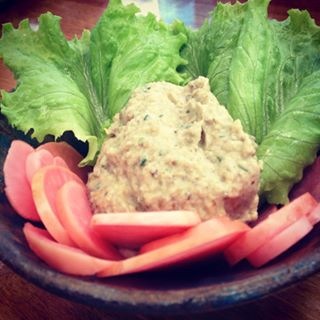 Eggplants are growing wild in my garden. I have this perennial style bush that just keeps giving. And what's awesome about this variety is that it's bulbous shape makes it perfect for charring. This method helps to remove the skin so the soft cooked interior gets used for pates and spreads like baba ganoush. This time however, I wanted something different. Something lighter – I love tahini, used in hummus and baba ganoush, but instead I grabbed a can of wild salmon and a handful of herbs.
Delight.
And paired with some fresh lettuce and pickled radish, it was a most elegant lunch and new idea for a pot luck dish. I hope you get to try it!
Method: Char your eggplant – I do this on my cast iron skillet but turning it on medium high and turning my eggplants every few minutes. I keep a lid on even if the eggplant push on the lid and create a gap between the lid and skillet, because once they start to cook down that gap becomes smaller.
You can also do this in your oven 🙂
Remove skins

Add 2-3 small-medium eggplants to your Cuisinart

add a can of salmon

a small bunch of herbs – parsley, dill, basil are all nice

salt and pepper to taste
Whiz away until a uniform spread comes together. You may need to scrape down the sides. Top the spread onto lettuce leaves, and if you're feeling adventurous – or if you already have pickled or sauerkraut on hand, use this as a condiment. Enjoy!