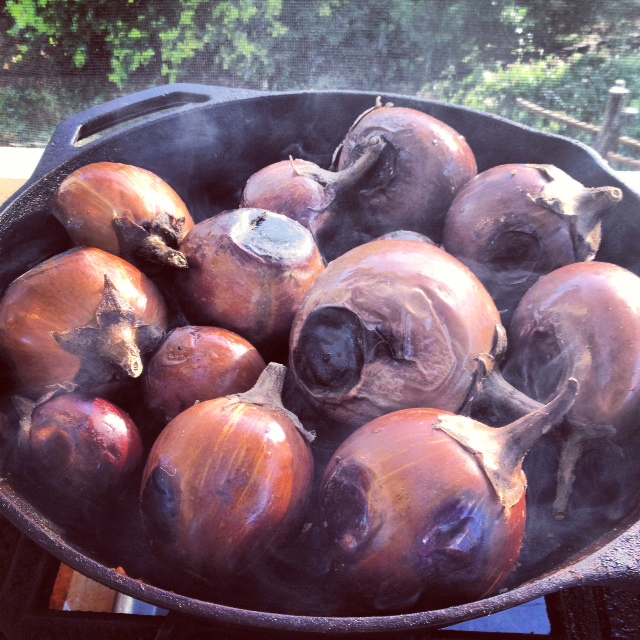 Copious eggplant calls for creativity but not a whole lot of imagination. This dish is a crowd pleaser and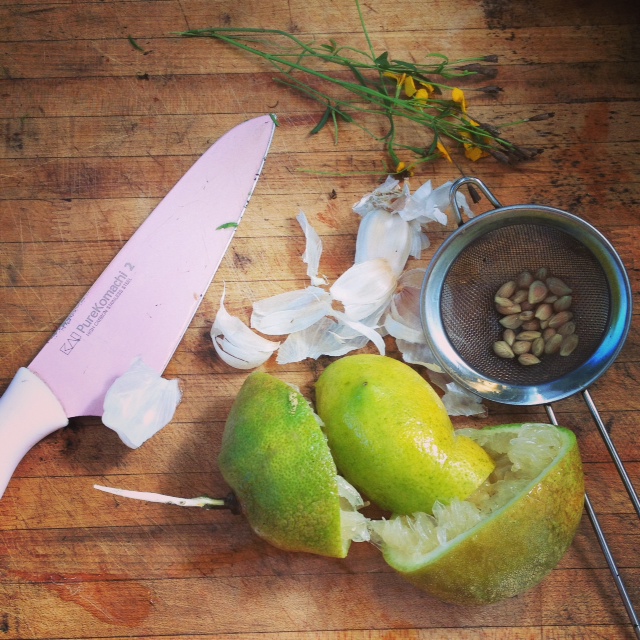 healthy. Bring it to your next pot luck with veggies for dipping.
I don't have an oven (or a freezer) so I'm constantly looking for ways to use my trusty cast iron pan – and believe me, everything goes in this puppy. Don't know where I'd be without it.
The trick to babaganoush is cooking the eggplant in its skin and I find this is best done by giving each fruit a prick then turning the heat on medium high and covering the pan so it steams as well. I turn the eggplants at least twice until they're all uniformally cooked. Once cooled you can peel the skin and begin the assembly.
Here's what I used:
I used about 12 small to medium sized eggplants but use less or more depending on what you have
1/2 cup tahini – I made my own but store bought will do
Juice of 2 lemons
3 cloves garlic
3 sprigs of Tarragon
sea salt and pepper to taste
In a food processer combine all your ingredients and pulse until all the ingredients are blended. I think it's best a bit chunky but you could process until it's practically pureed. Alternatively mash all your ingredients in a bowl. Serve room temperature with veggies and/or chips or use as a spread in your sandwiches/lettuce wraps. Mmm.