Desiree Agadar shared this Veggie Curry recipe with us during the 3rd week of the Kaukau 4 Keiki Summer Feeding Program. With 4 more weeks to go the program has been running super smoothly with the kakou of many community members and organizations stepping up and volunteering their time and resources to deliver boxes to 950 keiki across Kaua'i! It's no easy feat but the work is made enjoyable and less rigorous with the help of many. It's a blessing to share food with one another and hear that keiki are enjoying their meals!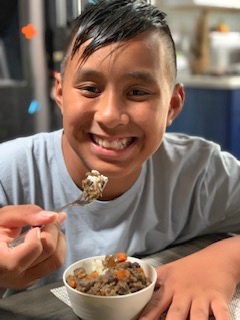 Along with this recipe Desiree shares, "our ohana of five is appreciative of the Kaukau boxes because fresh vegetables and fruits have become an expensive commodity nowadays. We love that we are eating locally grown and helping small businesses. It allows us to introduce vegetables into our diet that we maybe normally wouldn't add. Our keiki love eating the sweet fruits and making smoothies and I love that I can sneak in vegetables into dinner."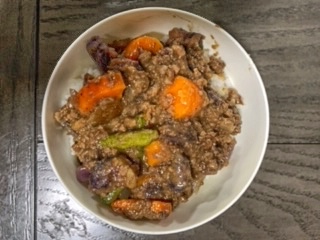 Veggie Curry by Desiree Agadar
Ingredients:
From Your Kaukau Box:
Sweet Potatoes
Carrots
Beans
Hamburger
From Your Kitchen:
Instructions:
Dice your veggies then sautee your potatoes, onions, carrots, and garlic.
Once they've cooked down, add ground beef and beans.
Finally, add in curry mix following the directions of water to mix ratio.
Let everything simmer together and it's ready to eat.
Share your own Kaukau 4 Keiki inspired recipe and be entered into our weekly recipe contest!
Details here.