Kristine Long and her family are organic farmers and beekeepers with a passion for creating healthy recipes like these Garden Isle Green Beans and Candied Yams. Kristine's daughter, Sky, grew up at the local farmers markets with her dad selling their raw local honey and products. Sky is a keiki farmer and student tending to her own row of herbs and veggies growing at Kahili Adventist School's garden in Wailua. Kristine's husband is vegan/vegetarian and she tries to be but occasionally will eat local grown animal protein: free range chicken, grass fed beef, and fresh caught fish. 

With her 'ohana as official taste testers Kristine's hope is to continue to create farm to fork recipes like the one she shares below for her family, friends, and community.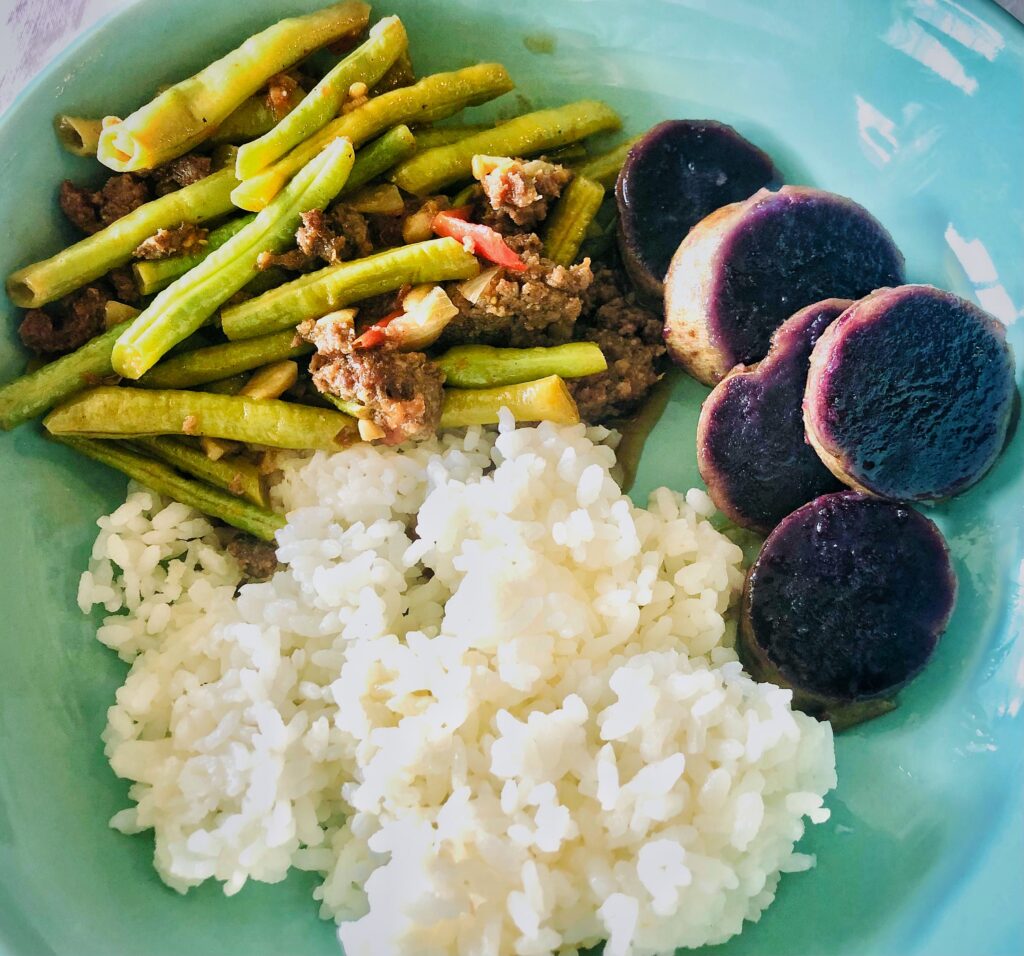 Garden Isle Green Beans and Candied Yams

Ingredients:
From your Kaukau 4 Keiki Box:
1 tomato
2 cups sliced green beans
1 beef burger patty crumbled
2 purple sweet potatoes, sliced
From your Kitchen:
2 tbsp olive oil
3 cloves garlic
1/2 onion
Hawaiian salt
Black pepper
1 tbsp butter
2 tbsp raw local honey
1 tbsp shoyu (soy sauce)
Instructions:
In a small pot, add 1/4 cup water, a pinch of salt, and sliced purple sweet potatoes. Allow to boil and turn stove top at low to simmer. Remove from water, add butter and honey while yams are hot. Mix and set aside to cool. Serve as a side dish.
In a wok or skillet, add oil and sauté minced garlic until light brown. Add chopped onions and mix until onions are almost transparent, then add tomatoes. Stir until tomatoes are broken down and then add sliced green beans. Season to taste w Hawaiian salt, black pepper, and shoyu.
Add 1/2 cup water, and cover with a lid to steam for 3 min. to thoroughly cook veggies.
Last, add crumbled beef burger patty and stir.
Enjoy with a bowl of steamed rice and candied yams.
Share your own Kaukau 4 Keiki inspired recipe and be entered into our weekly recipe contest!
Details here.