So why the strange name – Oink Bah Buzz for a pizza?! Oink for the smoked meat, Bah for the goat cheese, and Buzz for the hardworking bees who make the honey, this pizza was named for the ingredients contributed by animals who live close to home and the symphony of sounds they make. A bite of this pizza and you'll quickly taste a whole world come together in delicate and delicious unity. There's a perfect balance of sweet, salty, and tangy from homegrown and homemade ingredients.
Your keiki and ohana will love this easy weekday meal that will come together in less than half an hour. Store-bought naan bread cuts the cooking time down to 10 or so minutes but if you've got a fresh pizza dough recipe up your sleeve by all means use it! Make it a family event and see the smiles or looks of concentration on everyone's faces as you let your creative juices flow, adding pesto, cheese, and toppings to your liking. A pizza is the perfect vessel to throw on leftover meat and sneak in extra veggies!
The way the smokiness from the pork merries with the tangy goat cheese and bright acidity from cherry tomatoes is capped perfectly with honey that spreads and lightly caramelizes the whole pie. This dish is made all the more ono when it comes straight from your home's kitchen. Ditch the delivery and try this picturesque and scrumptious pizza.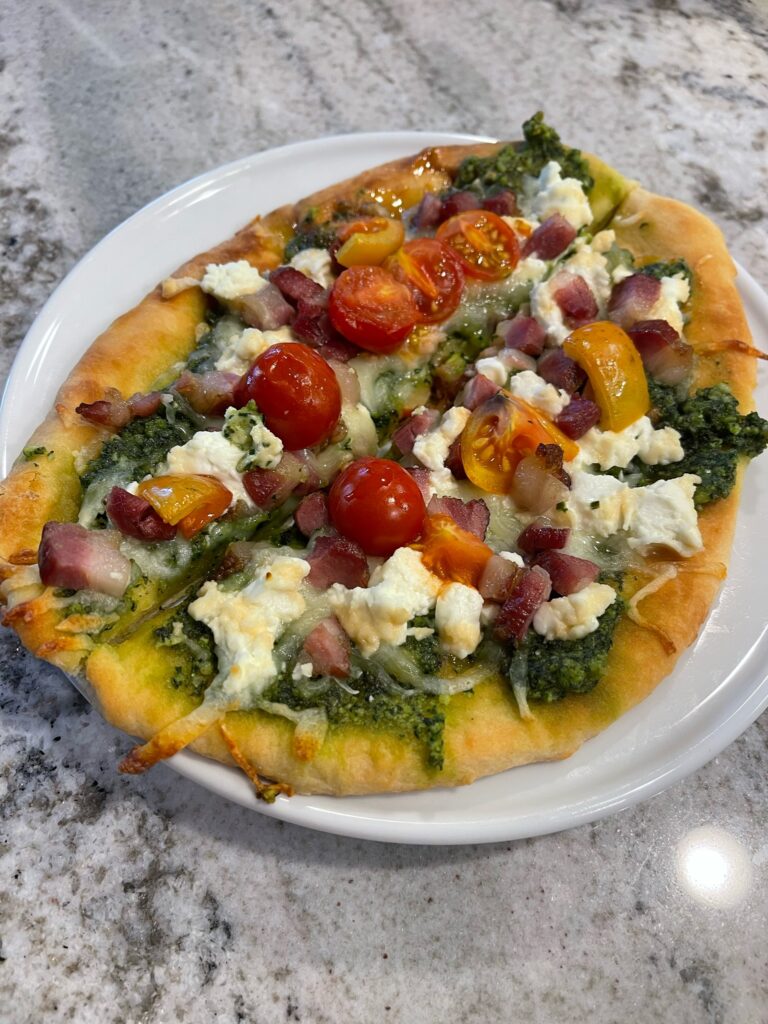 Oink Bah Buzz Pizza
Serves 2-4
Ingredients
2 large Naan bread
½ C. Pesto, try our Local Greens Pesto Recipe
¼ C. Goat cheese
1 C. Shredded Mozzarella
½ C. Smoked meat or cooked bacon bits
2-4 Tbsp. Honey, for drizzling
1 cup cherry tomatoes, sliced in half
Optional toppings: kale, arugula, red onion, and/or cilantro
Instructions:
Preheat the oven to 400 degrees.
Meanwhile, spread a thin layer of the pesto sauce onto your naan bread.
Top your bread with mozzarella cheese then top with goat cheese, smoked meat, chopped tomatoes, and finally add a drizzle of honey all over.
Bake for 10-12 minutes on a baking sheet.
Let cool for a few minutes then slice and serve! So easy, so `ono!
Watch how we made it on the MK YouTube Channel HERE!