Local Greens Pesto is fast food with all of the superfood nutrition. It can be whipped up in just 5 minutes and uses ingredients you may already have on hand. Homemade pesto offers a powerfully fresh flavor and sweetness that truly outshines the jarred stuff.
Fresh garlic gives this sauce a subtle spiciness while the macadamia nuts add a savory and satisfying crunch. Experiment with flavor variations beyond basil by using different greens in your pesto like kale, spinach, or the tops of carrots or beets. You may just come up with the next best thing! While these local leaves add a variety of flavor they will also have health benefits shooting through the roof – dark leafy greens are abundantly rich in vitamins and antioxidants which make them one of the best cancer-fighting foods. Pair them with healthy fats from good quality olive oil and fresh macadamia nuts and your body is primed to absorb as much of the vegetables nutrients as possible.
This recipe makes healthy eating easy since you can mix this pesto into your pasta and ravioli dishes. You can add it to your avocado toast and caprese salad. Or coat your fish, chicken, shrimp, or veggies with. We added a healthy portion of pesto to our Oink, Bah, Buzz pizzas and the outcome was a total knockout! A food processor or blender will help you make your pesto in a snap but if you want to opt out of technology you can go old school and chop, chop, chop your ingredients and simply stir in the olive oil.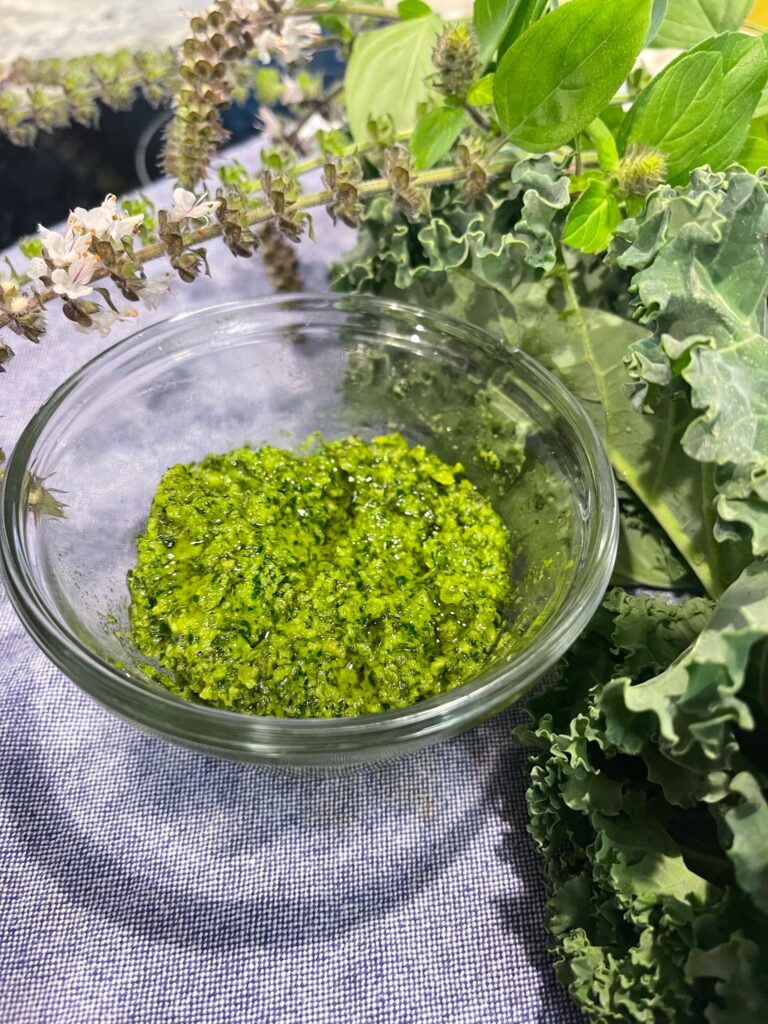 Local Greens Pesto
Makes 1 cup
Ingredients
2 cups tightly packed basil, kale, spinach, or carrot/beet tops (or a mixture)
2 garlic cloves, peeled
½ cup olive oil
⅓ cup macadamia nuts
Pepper and salt to taste
Instructions:
In a blender or food processor, blend together all of the ingredients. You can leave it a little chunky or blend until smooth, your choice.
Add this to your favorite food. We recommend our Oink Bah Buzz Pizza.
Store in a sealed container in the fridge for about a week.
Watch how we made it on the MK YouTube Channel HERE!