It's hard to beat an ice-cold Lilikoi Ginger Lemonade on a hot Hawaiian day! This local libation is uniquely refreshing with a sweet and snappy flavor. You'll love the characteristic zing from freshly grated ginger which is also the healing rhizome's medicinal properties at work. Not only is this fragrant root known for curing nausea and aiding in digestion, it also helps to fight the flu and common cold. Adding ginger to your daily diet is a great way to boost your immune system and this drink makes it easy and delectable.
Freshly squeezed lemons and oranges is our dynamic duo of choice but if you're out of either of these you can swap in tangerines, limes, tangelos, or grapefruits. You may have to adjust the ratios and add a bit more honey if it's too tart but the outcome will still be tasty. Citrus squeezing is the perfect task for keiki. They get to show off their muscles while seeing fruit magically transform into juice. Just make sure they don't have any cuts or scrapes on their hands or fingers because citrus on even the smallest of boo-boo's sure can sting!
You can easily double or triple this recipe for parties (it also makes a great mixer for tequila or vodka!) or simply enjoy with the keiki on a sunny day. Feel free to add seasonal fruit, such as mango, pineapple, or watermelon to take the flavor to the next level.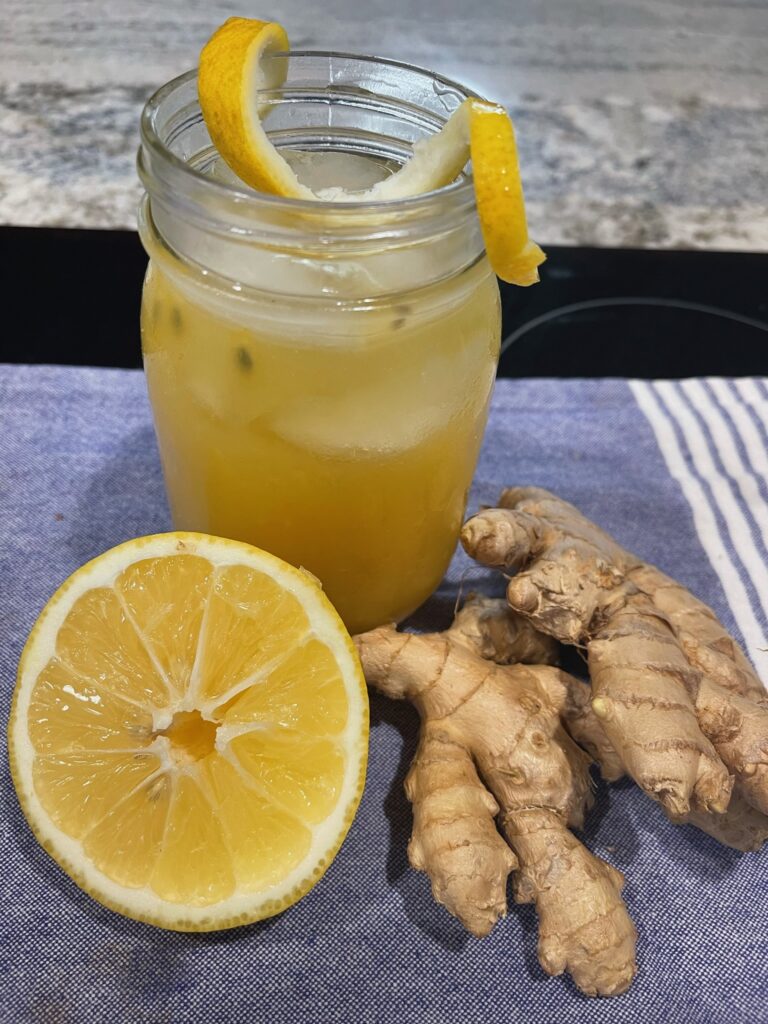 Lilikoi Ginger Lemonade
Serves 4-6
Ingredients
Water
¼ C. Honey
3 inch piece Ginger, peeled and grated
1 C. Lemon juice, fresh squeezed
1 C. Orange juice, fresh squeezed
½ C. Lilikoi Juice, fresh
2 C. Ice
Optional add ins: fresh mango, watermelon, pineapple
Instructions:
In a saucepan over medium heat, simmer the honey and ½ cup water until dissolved.
Add freshly grated ginger into the saucepan, turn off the heat and let it steep for 15-30 minutes.
Meanwhile, juice your oranges and lemons into a large pitcher.
In the same pitcher, scoop in the fruit and seeds of your lilikoi. *If you don't like the seeds you can strain them out.
Pour your syrup over a strainer into a bowl to strain out the ginger pulp and let cool.
Once the ginger syrup is cooled add to your pitcher of juice and add 1 cup of cold water. Stir until well combined.
Serve your refreshing drink over ice and enjoy!
Watch how we made it on the MK YouTube Channel HERE!