Fruity poi parfait, which we affectionately call the fruity poi-fait, is a colorful breakfast or snack that is as nutritious as it is beautiful. Layered with creamy pudding which is naturally thickened with chia seeds and sweetened with local honey and seasonal fruit can then be finished with all the toppings your heart desires. It's packed with protein, vitamins, and feel good nutrients that can easily be prepped the night before.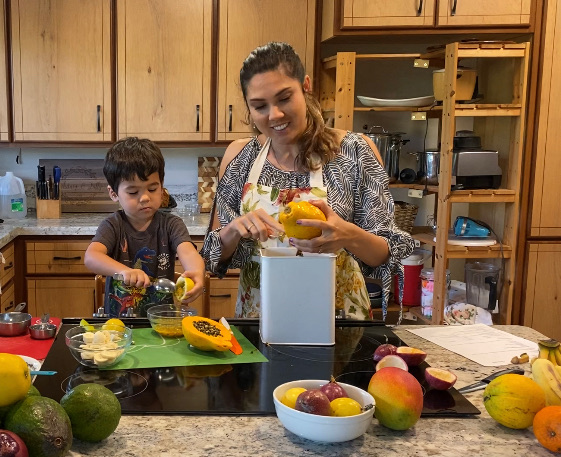 This fruity poi-fait makes a great on-the-go breakfast for early morning adventures or when you accidentally sleep in on a school day. Prepare these in a wide-mouthed flask or container with a lid that is easy to pack and enjoy this flavorful breakfast on the road, on a hike, or at the beach. Kids and adults who are not fond of the flavor of poi will not even know it's hidden within the chia pudding. Dig in and enjoy this poi-fect treat!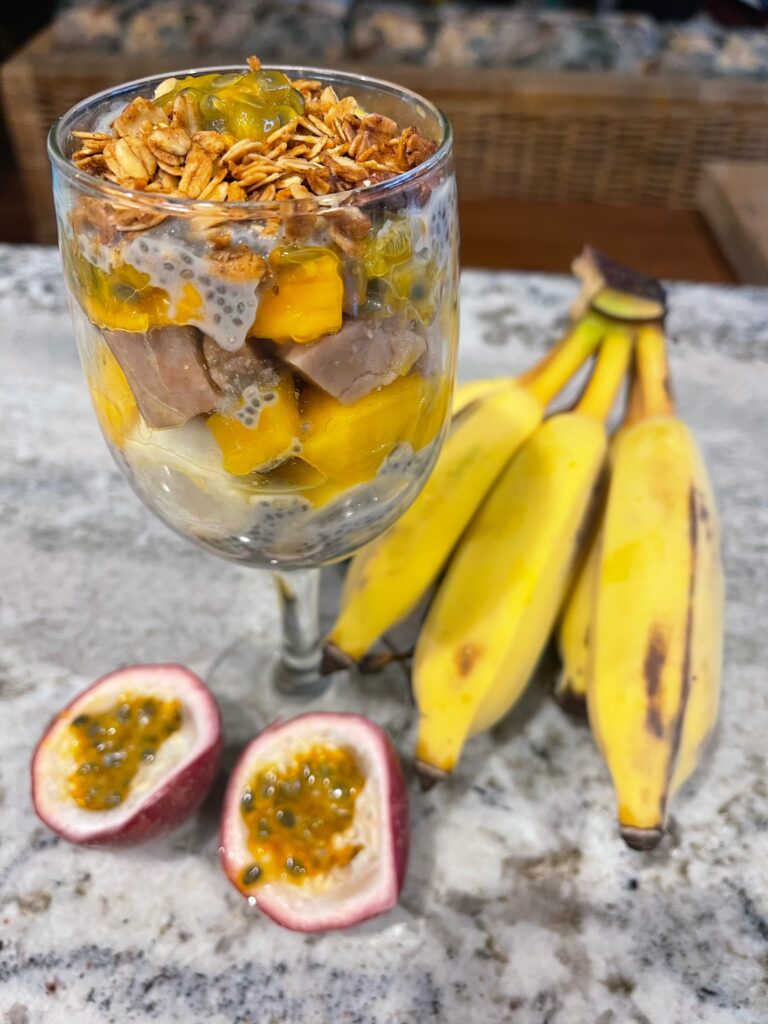 Fruity Poi Parfait
Serves 2-4
Ingredients
¼ C. Chia seeds
1 C. Plant based milk of your choice (soy, coconut, almond, oat)
½ C. Poi
1 C. Purple sweet potato or Kalo Pa'a or both!
3 C. Local fruit, chopped (papaya, banana, mango, lilikoi, dragon fruit, fresh coconut meat)
Toppings: Granola, honey, coconut flakes, bee pollen, hemp seeds
Instructions:
Make chia pudding by combining your milk, poi, and chia seeds in a bowl and letting it soak for 30 minutes or overnight in the fridge.
Cut your sweet potato into 4 chunks and boil for 15 minute or until soft. Let cool then chop into small cubes and continue to cool.
Meanwhile, chop your fruit into small, bite-sized pieces.
Get out 2 clear glasses or jars and stick sliced fruit like banana or dragon fruit to the inside of the class for decoration.
Using a spoon, layer your fruit, chia pudding, and sweet potato. Wow, admire those colorful layers!
Top with granola, coconut flakes, or honey then dig in!
Watch how we made it on the MK YouTube Channel HERE!
Snap a few pics of your dish and share with us on social media @malama_kauai or
email to [email protected]