🌱A Little Bit of Background🌱
A versatile and highly nutritious plant native to parts of South Asia is also cultivated and grown right here in Kaua'i. Generally referred to as the "drumstick tree," "horseradish tree," "kalamungay," or simply "moringa." Here's some background information about this remarkable plant: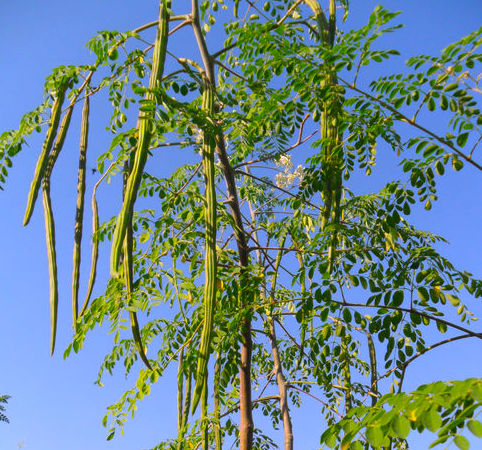 Moringa is celebrated because of its exceptional nutritional content. It is rich in vitamins, especially vitamin C, vitamin A, and various B vitamins. Additionally, it contains essential minerals like calcium, potassium, and iron. The presence of antioxidants and essential amino acids adds to its nutritional value. Notably, the leaves, pods, seeds, and even the roots of the moringa plant are all edible and contribute to its remarkable nutritional profile.
Various parts of the plant are used when cooking with moringa. Cook like a green vegetable, similar to spinach or kale. The long, slender pods, often referred to as drumsticks, are used in curries, soups, and stews. Another way to utilize this plant is using the seeds. They can be pressed to produce a nutritious oil, while the root can be ground into a condiment with a flavor similar to horseradish.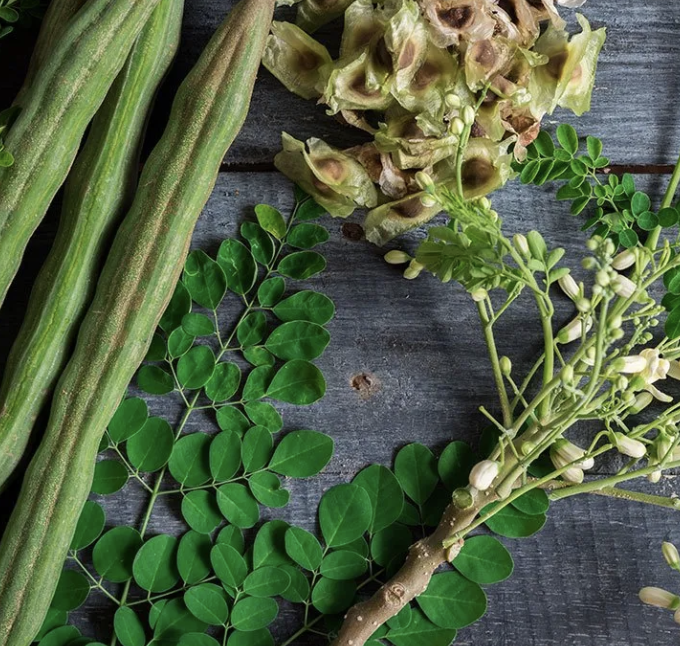 Moringa is known for its resilience and ability to thrive in challenging environments. It grows quickly and is drought-resistant, making it a valuable crop for regions with limited water resources. Additionally, it has nitrogen-fixing properties, which can improve soil fertility.
---
3 'Ono & Inspiring Recipes
Zesty Moringa Salad
2 cups fresh moringa leaves (removed from stems)
1 cup cherry tomatoes, halved
1/2 cucumber, diced
1/4 red onion, thinly sliced
1/4 cup sweet pepper
2 tablespoons olive oil
1 tablespoon lemon juice
Salt and pepper to taste
Toss the moringa leaves, cherry tomatoes, cucumber, and red onion in a bowl. Drizzle with olive oil and lemon juice, and season with salt and pepper. This refreshing salad is rich in nutrients.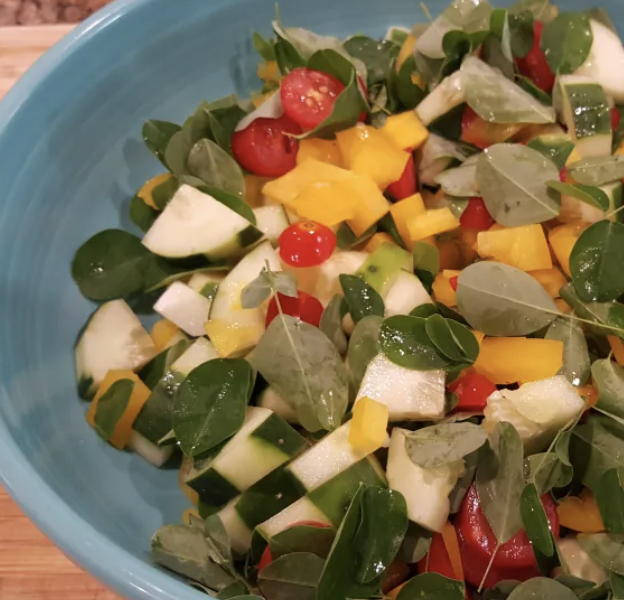 ---
Hearty Moringa Soup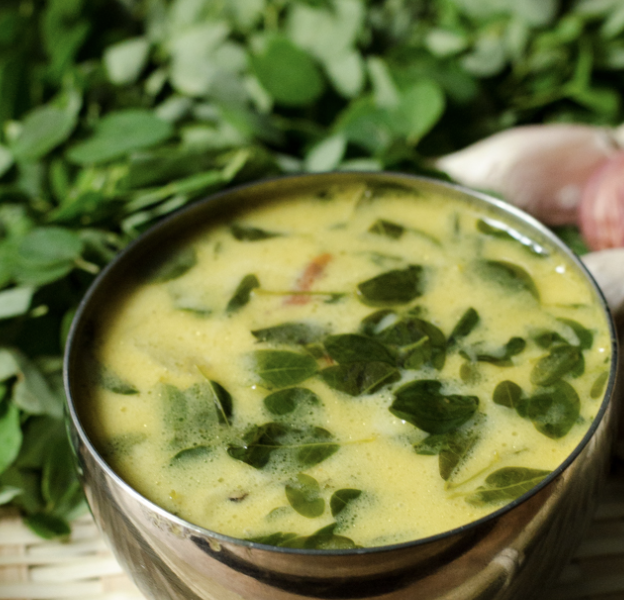 2 cups fresh moringa leaves (removed from stems)
1 onion, chopped
2 cloves garlic, minced
4 cups vegetable broth
1 cup diced potatoes
1/2 cup coconut milk
Salt and pepper to taste
In a pot, sauté the onion and garlic until fragrant. Add the vegetable broth and potatoes, and simmer until the potatoes are tender. Stir in the moringa leaves and coconut milk, and simmer for a few more minutes. Season with salt and pepper, and serve hot.
---
Drumstick Curry
10-12 moringa pods (drumsticks)
2 tablespoons vegetable oil
1 onion, finely chopped
2 cloves garlic, minced
1-inch piece of ginger, grated
2 tomatoes, chopped
1 teaspoon turmeric powder
1 teaspoon cumin powder
1 tablespoon curry powder
Salt to taste
Chopped cilantro for garnish
To make moringa drumstick curry, trim, clean and cut the pods. Secondly, sauté onions, garlic, and ginger. Add tomatoes, spices, potatoes and the pods, and simmer until tender. Serve with rice or flatbread, garnished with cilantro.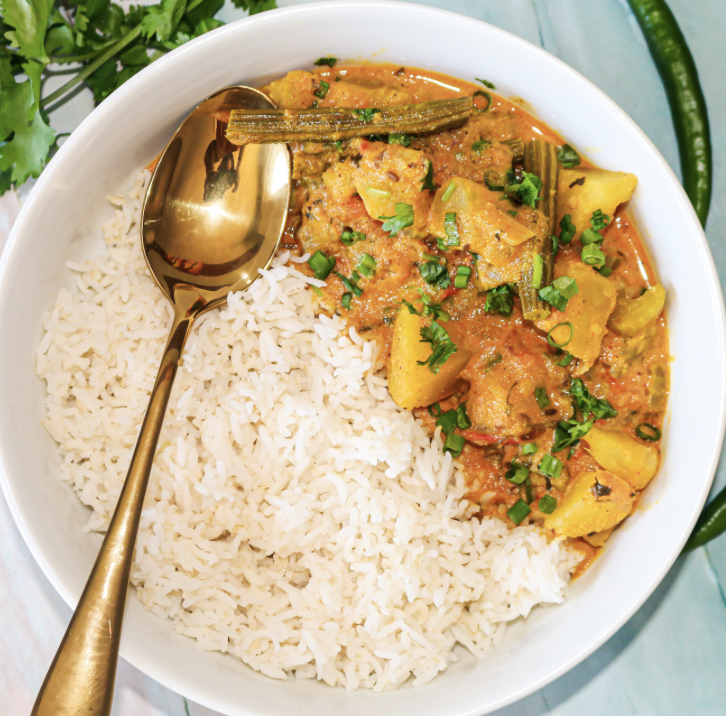 Here is a quick video of how to properly clean the moringa pods, also known as drumsticks.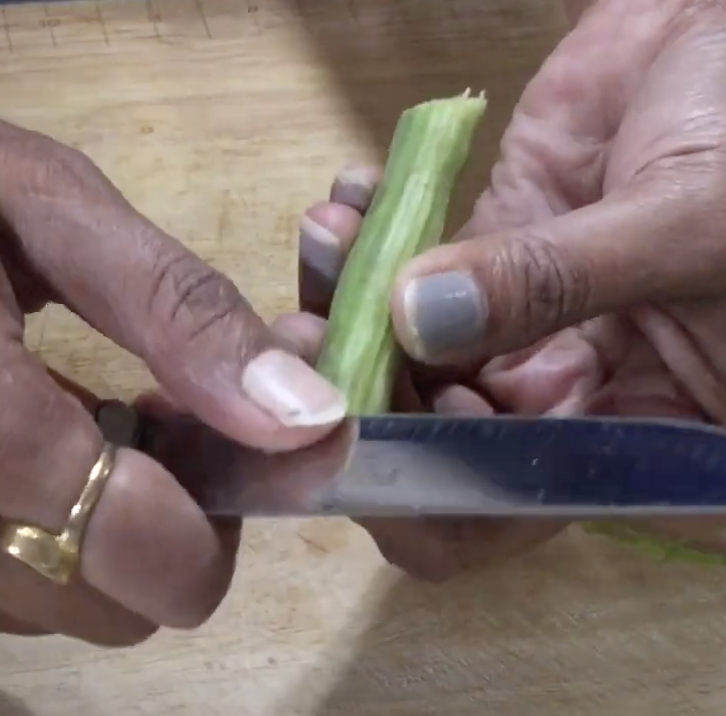 ---
Supporting local agriculture by purchasing locally-sourced produce is a direct investment in the prosperity of our community. It enables farmers to sustain their livelihoods while supplying us with fresh, nutritious, and delicious food options. Don't pass up the chance to procure your ingredients from KauaiLocalFood.com, where we're delighted to extend a generous 50% discount to SNAP/EBT users, courtesy of DA BUX!