Poi mochi balls are the epitome of holiday cheer and indulgence in Hawai'i. Their thin and crispy outer layer crackles with every bite and the soft purple center is gooey and sweet. This is a dessert welcomed and enjoyed by all ages and is a genius way to use poi outside the realm of savory dishes.
Four ingredients plus oil for frying is all you need to achieve the most gloriously crisp and chewy, hot and sticky poi mochi balls your family, friends and loved ones will adore. Whoever is manning the frying pan deserves a big hug and maybe a kiss because these are best served hot and 'made to order'.
Buss out your wok and get ready to fill up a tray full of one of our all time favorite desserts!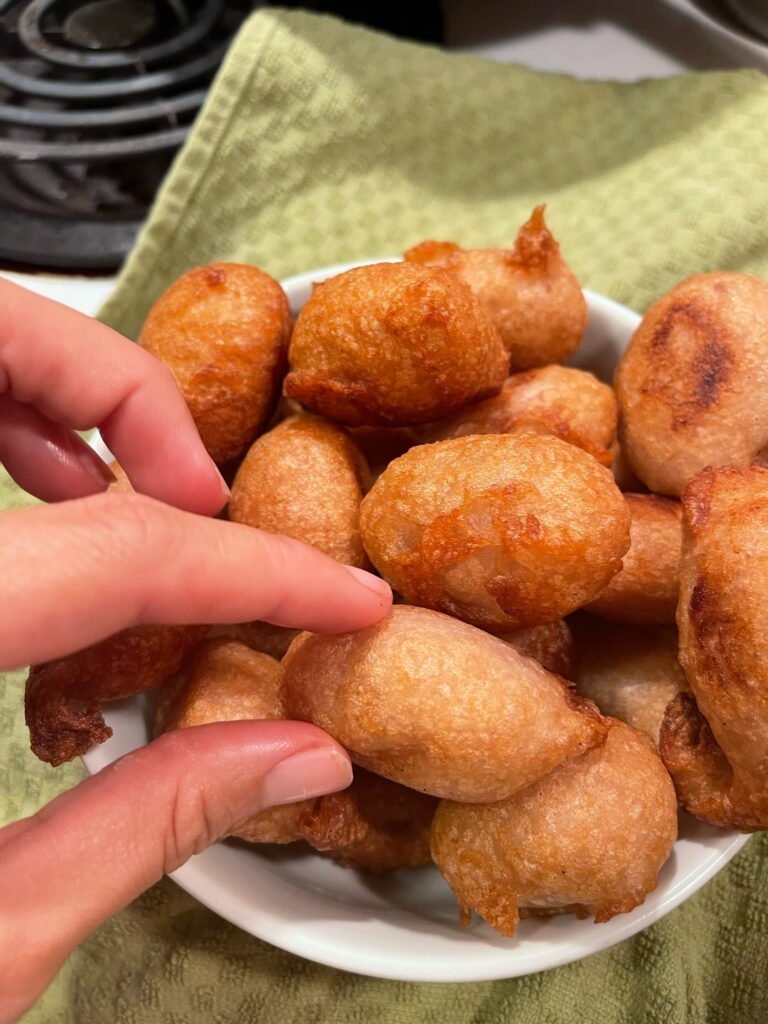 Poi Mochi Balls
This recipe makes about 35 balls
Ingredients:
1 lb. Poi
1- 1 ½ C. Water (Depending on thickness of poi)
1 box Mochiko
1 ¾ C. Sugar
Coconut oil (for frying)
Instructions:
In a large mixing bowl combine the poi, mochiko, and sugar.
Add 1 cup of water to the mix. Add more water if the mixture is too thick. To test for perfect thickness take a scoop of the mixture in a spoon and hang it upside down over your bowl. It should take about 3 seconds to fall back into the bowl.
Heat up coconut oil to medium high in a pot or wok so that it fills up to the sides 1 ½ inches with oil.
Using 2 spoons, 1 for scooping and 1 for scraping, drop blobs of the poi mixture into the hot oil.
Fry for about 5 minutes until golden brown, making sure to flip every so often with tongs for an even crisp. Make sure not to overfill your pot so that the mochi balls do not stick together.
When done cooking, let cool in a pan lined with paper towels to absorb the extra oil. These will be very hot for a few minutes so practice your patience!
Enjoy your crunchy, gooey, poi mochi balls while they're fresh!
Watch how it's made on our YouTube channel HERE!
Snap a few pics of your dish and share with us on social media @malama_kauai or
email to [email protected]