Trick or treat, smell my feet, give us meaty monster Feetloaf to eat! It's bloody, has sharp toenails, exposed bones, and is scary tasty. Your kids and kids at heart will love helping you create and eat this nutritious meat and veggie loaded dinner.
Use this dish to help you use all those leftover veggies you have hiding in the back of your fridge. Chips, Ritz crackers, and eggs help to bind everything together. It's easy to make, you just throw all of your ingredients together then have fun shaping your meat into monster feet. Don't be scared or squeamish, put Feetloaf on tonight's menu!
Need accoutrements to this haunted entree? Try these recipes for Monster Mash as a side and Butterfly Pea Witch's Tea to wash it all down.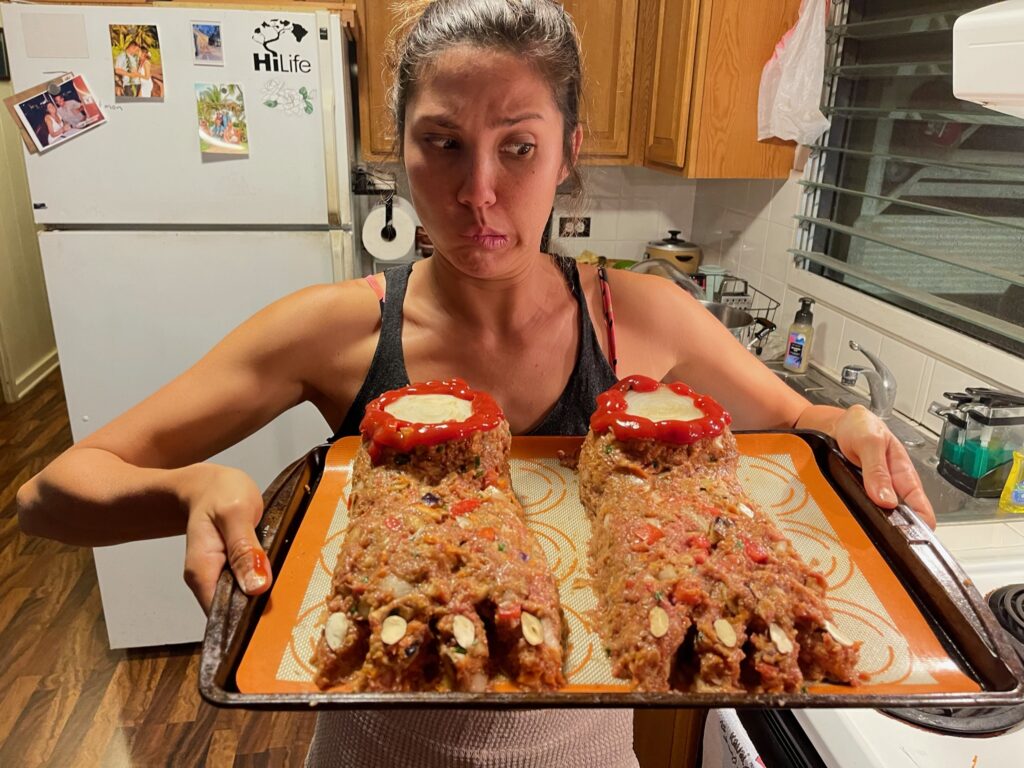 Feetloaf
Ingrediets:
2 lbs. Ground beef
1 Carrot, grated
1 C. Kale, chopped
1 Eggplant, diced
1 Onion (2 sliced rings for "exposed bone" saved on the side, the rest chopped)
¼ C. Green onion, chopped
3 Eggs
1 C. BBQ sauce
½ C. Poi
2 C. Breadcrumbs, make your own or store-bought
1 ½ tsp. Pepper
1 ½ tsp Garlic powder or 4 fresh garlic, minced
Decorations
Almonds or onion pieces for toenails
Ketchup, for blood
1 White onion, sliced into thick rings for the exposed bones (yikes!)
Instructions:
Preheat your oven to 375 degrees.
Make your own breadcrumbs (great way to use those butt ends)! Toast 4 thick slices of bread until dark brown and extra crispy. Let them cool and either crush in a plastic bag or crunch up in a bowl into small flaky pieces.
Chop all of your vegetables into small bite-sized pieces and mix everything except for the ketchup and toenail decorations together in a very large mixing bowl.
Split your meat mixture into two equal parts and place onto a lined baking sheet.
Shape the meat into long ovals for the feet then bring up one end to create "ankles".
Hollow out the ankles and add the onion rings as the exposed bone. Squirt ketchup (blood) around the edges of the ankle.
Using a knife, cut lines where your toes will be and use your hands to round out the toes. Use almonds or onion slices to create toenails.
Cover feetloaf loosely with tin foil to prevent burning and drying out your loaf.
Bake for 90 minutes or until the internal temperature reaches 160 degrees.
Serve your bloody severed meat feet while hot and oozy!
Checkout this episode on our YouTube channel.
We would LOVE to see if you try out our recipes! Snap a few pics and share it by tagging us on social media @malama_kauai or email to [email protected]