The Wooten family and their incredible diversified farm and dairy is a beautiful and inspiring example rising resiliently through the economic disturbance from COVID-19. A typical highlight at many farmers markets across Kauai, they immediately pivoted to a home delivery CSA model when markets began closing thanks to son Ryanʻs marketing skills.
"My heroes in all of this have been my family and I mean that as extended family, too, for folks like Megan who have looked at it as a challenge and not a crisis," says mom Louisa. "Ryan literally leaped into action and showed that he is not only an amazing young farmer, but a marketing whiz. My one-of-a-kind mechanical genius husband never skipped a beat in figuring out how to make a collection of cheese presses from locally sourced, repurposed materials.  All done in about a week's time so that we didn't have to dump milk or dry off our milking herd of goats."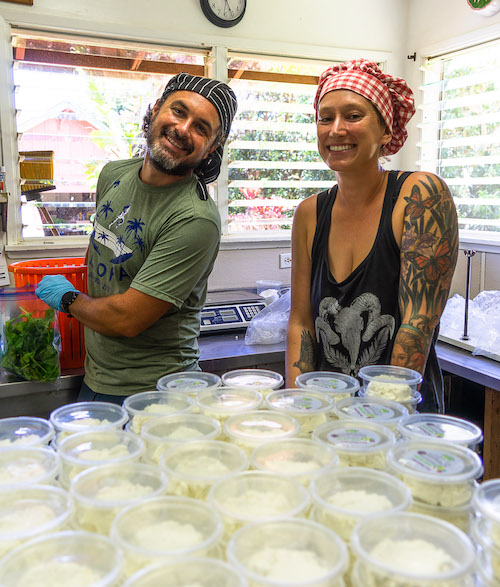 Their online ordering and twice-a-week delivery service is booming, so much so that theyʻve been able to help offer products from their friends' farms to their expanding customer base. They also got creative with their cheese, expanding refrigeration thanks to a fridge donation from another community member. The fridge is being used to turn surplus goat milk into hard cheeses for longer storage capability due to lessened sales with so many restaurants being closed. Kunana is cheekily naming their new blue cheese product "The Corona Blues".
They've also joined up with us here at Malama Kauai to provide 250 goat cheese products per week through the USDA's Farmers to Families Food Box Program, which will be distributed at DOE schools across the island in Farm-to-School CSA Boxes to families in need.
"We have been able to restore the hours we had to cut for one of our employees and have hired our granddaughter to also help with fulfilling the new orders and making deliveries," Louisa noted. "Farmers have always been my heroes from the time I was a little girl watching my dad farm in Texas.  The diversity and resourcefulness of small family farms is proving to be the equation that is working for food production during the COVID-19 challenge."
"We are seeing breaks in the supply chain for large-scale, factory farming and food actually being wasted at a time when people are hungry. Hawaii farmers have a great opportunity to step-up right now and show how this family farm model can be the best model."

~ Louisa Wooton
Their ability to move so quickly likely lies not only in their experience but in their strong ability to work together as a family. Kauai Kunana Dairy Farm was created in 1979 with two lovely people, Bob and Lousia, who came from Ohio and West Texas. With backgrounds of farming, they bought property on the north shore of Kauai in 1991, where they raised their two sons, Ryan and Troy, on their farm from birth. They built their own farm on undeveloped land and planted a variety of fruit trees, created a garden, and even built their own animal hale and farm hale in 1999. From there, Bob and Lousia become a licensed dairy to sell delicious cheese from their 12 goats.
Now, their business has expanded and they have a full head of over 80 goats on their farm. Since 1999, Kauai Kunana Dairy has specialized in creating unique flavors of goat cheese and goat milk products such as soap, hair care, and skin products. And it doesn't stop there! They produce and make their own sauces (macadamia nut pesto, lemongrass vinaigrette, red wine herbal vinaigrette, & hawaiian chile pepper) and a unique blend of honey products (soaps, balms, salves, & candles).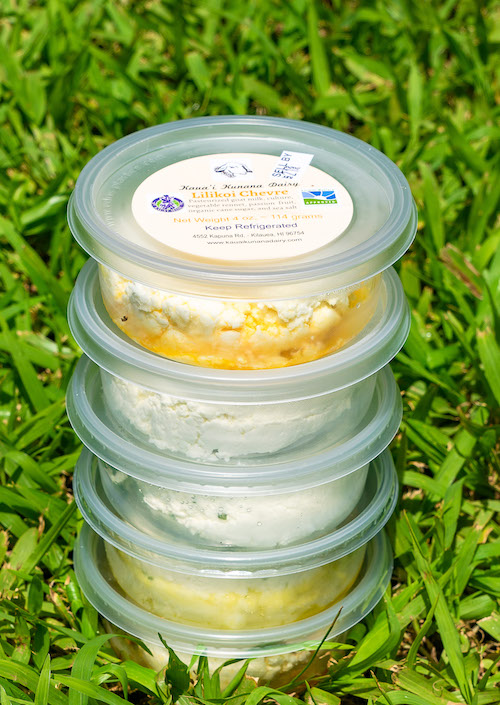 Before COVID-19 was introduced, Kauai Kunana Dairy also had an educational and exciting farm tour. Activities included petting farm animals to taking a stroll through their organic orchard to learning about sustainable organic farming, and of course included sampling many of the treats on the farm. Now, the farm is closed temporarily for visitors until further notice.
Like many farms across Kauai, Kunana Dairy had to move most of their selling online for safety reasons and to follow social distancing rules. Kauai Kunana does pickups and delivery orders all over the island through their online website where they currently sell CSA boxes, organic produce, goat cheese and kitchen specialities, breads, baked goods, juices, sauces, honey, eggs, as well as health and beauty products.
You can find their offerings and order conveniently online at www.kauaikunanadairy.com. To learn more information and updates about their farm, check our their social media on Instagram: @KauaiKunana or Facebook: Kauai Kunana Dairy.