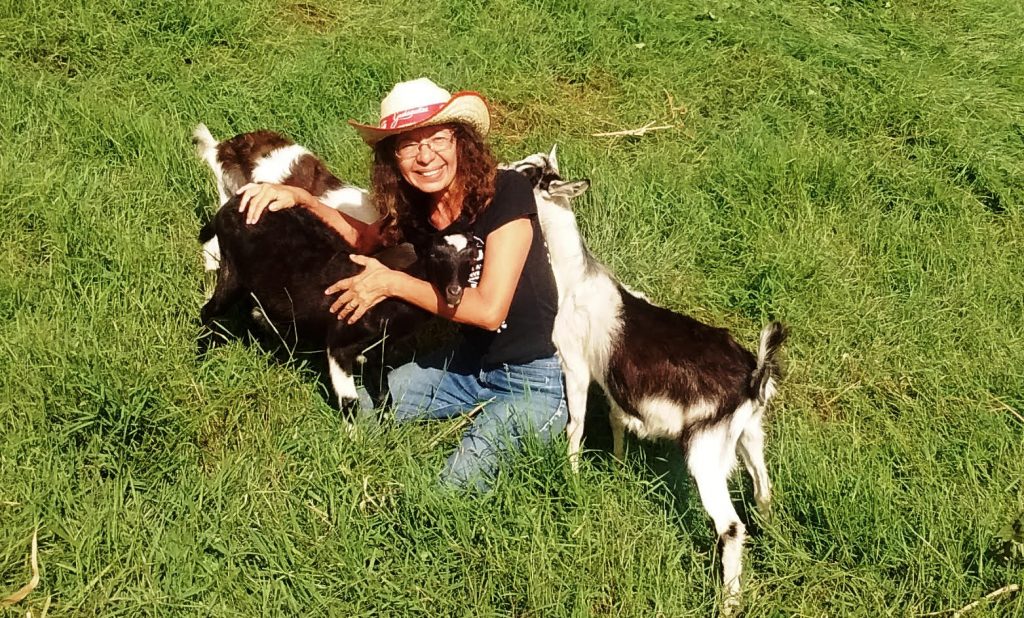 Sweet, certainly describes the scene of rolling green hills at Baum Farms, where Anabella "Anny" Bruch, her partner, Ueli Muller and their family are now three years into raising goats and fruit orchards in the N. Olohena ahupuaa of Kauai's moku o Puna; with the intention of marketing their fresh farm products to local consumers in the future. Sorry, for now you have to be a family friend to find out how perfectly sweet their fresh milk and cheeses are. But we'll let you know when they get to market.

Born in Bolivia and raised bilingually, Anny got a Masters in Economics from American University and to this day works in Latin America via telecommuting, as a consultant to International nonprofits in rural development. She is currently working for a project in Colombia to help reduce child labor in agricultural communities.

Along the way she also became certified in Permaculture Farming. That, with her background in sustainable rural development helped her form a vision for her own family living and seeking to contribute to the community of Kauai. With humble determination and enthusiasm, Anny is learning to farm through growing her own farm, while also helping fellow farmers and organizing agricultural community initiatives.

As the Vice-President of Hawaii Farmers Union United and its charitable Foundation, and Treasurer of the local Kauai Chapter, Anny secured funds from the HDOA and private donors to support flood relief for Kauai farms, while also doing outreach in support of Malama Kauai's flood relief program. She reached out especially to farmers who may have been under-supported and worked to get the type of help they specified that they needed.

VERY EXCITINGLY, also through HFUF, Anny is now spearheading the 1st-of-its-kind, Kauai Farm Tool Lending Library, to be available to all family farmers on Kauaʻi. You will find more info about that in future editions of Kauai Farm News!

Making good connections among farmers, local experts and supportive agencies, Anny has organized an ongoing series of educational workshops; Food Safety (FSMA) outreach education and certification for farms; and the bi-monthly potluck & speaker meetings of the HFUU-Kauai Farmers Union. She encourages all to come check it out!

But funny thing is, most folks don't know all this about Anny Bruch! Truly she's happiest with her plants, goats and family on her Olohena hilltop farm, just being humbly helpful.

Malama Kauai offers a Mahiʻai Technical Assistance Program to Minority Farmers, like Anny, as a free & confidential service to help with all assortment of both basic and complicated farming & business issues.
If interested in learning more, please contact Bryna: [email protected] or (808) 828-0685 x15