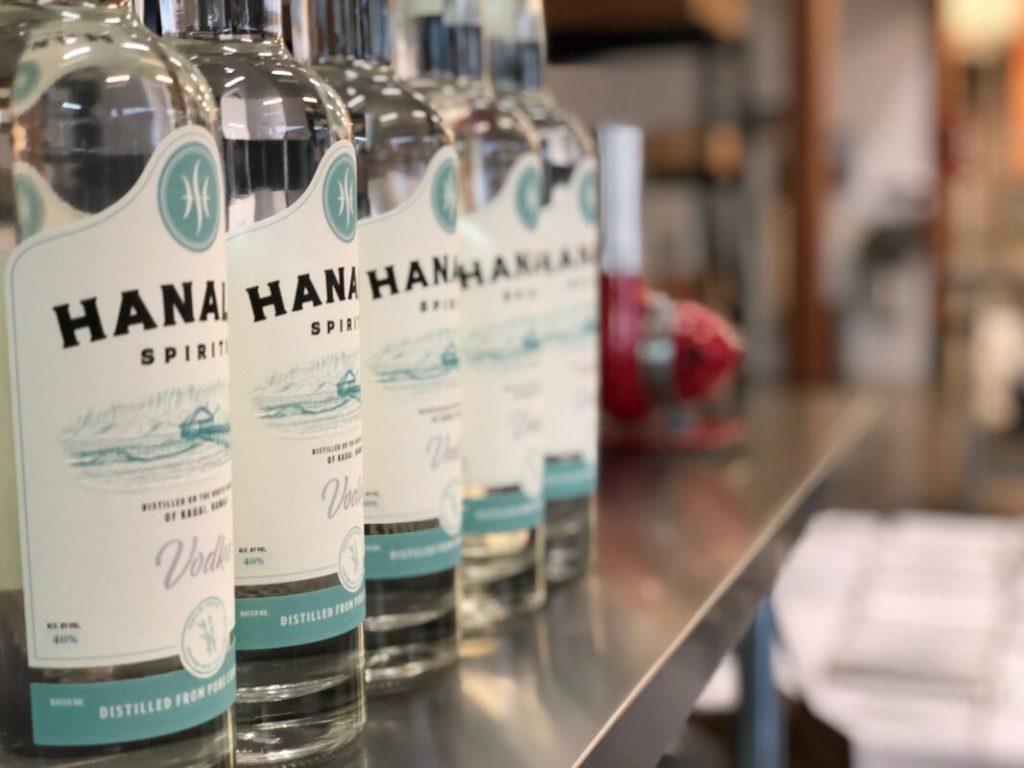 Grant and Vindi Wells got together with their buddies Rob and Johnny in their garage one afternoon. They talked about their ideas and told stories while sipping on a glass of home-brewed beer. This is where their brilliant idea came together to lay the foundation for the future business. Hanalei Spirits Distillery is a small local business where they use quality locally sourced ingredients to create small-batch spirits.
"Our goal for our company is to set a high standard of Aloha as we interact with our local and visiting community. Having more diversified agriculture is a step in the right direction for creating a softer footprint on our land and environment. We hope to do our small part to help maintain a healthier balance between Hawaii's rich history in agriculture and our dependence upon visitors. Small steps like these can help keep Kaua'i our "garden island" a unique and sustainable island home" says Vindi Wells.
Vindi Wells was born and raised on the island of Kaua'i. After college, Vindi returned to Kauai eager to help the Kauai youth as a speech-language pathologist. Grant Wells was born in New Zealand and raised on Kauai. Grant followed in his father's footsteps as a general contractor. They still work their current day jobs, on top of running, Hanalei Spirits. A few years back, Grant started brewing his beer just for fun with friends. This is what led his passion to further his knowledge in biochemistry and physics as it relates to the business of distilling.
On the family's 6.5-acre farm that has its history in sugarcane, they have been dedicated to growing endangered hardwood timber for the past 18 years. They have also started to plant and grow ingredients to be used to craft their island spirits. They grow a variety of plants and trees on their farm including 'ulu (breadfruit), lychee, starfruit, passion fruit, lilikoi, ginger, mint, and the widely diverse Hawaiian Ti plant, that they use to craft their vodka, rum, and specialty spirits.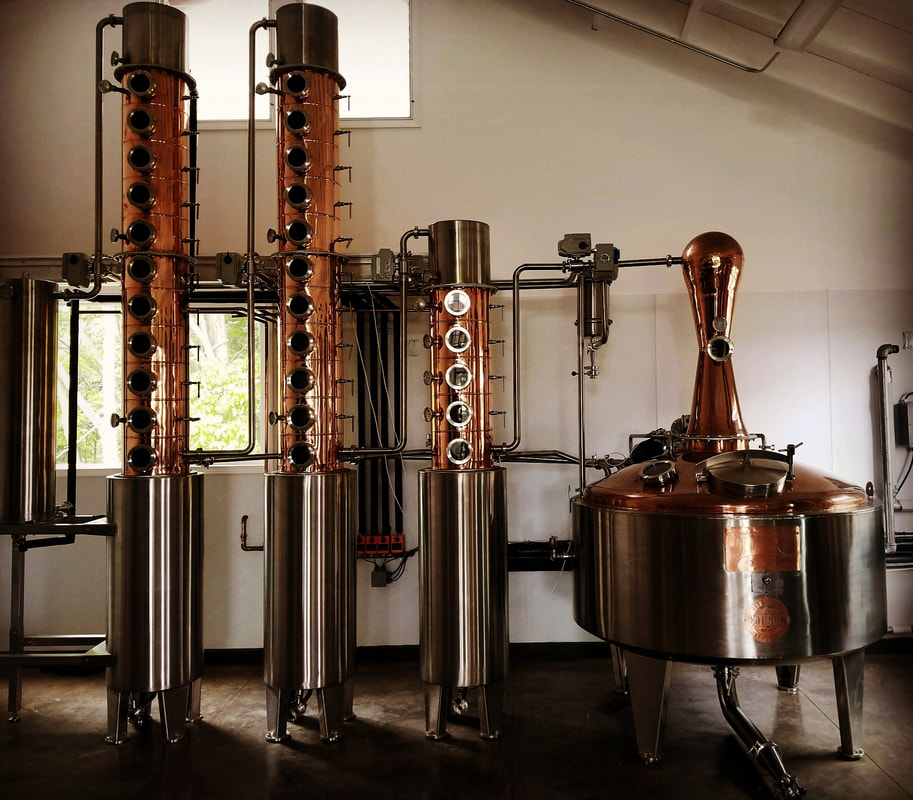 A big part of their story is their use of old equipment found in pastures, some of which was from Wailers Brewpub. With a little elbow grease and ingenuity Grant and Vindi, were able to give this equipment a second chance at life. They welded, cleaned, and retrofitted the units to suit their purposes. In the process of building their distillery, they had a tight timeline, so both their ohanas spent the summer of 2018 building the distillery.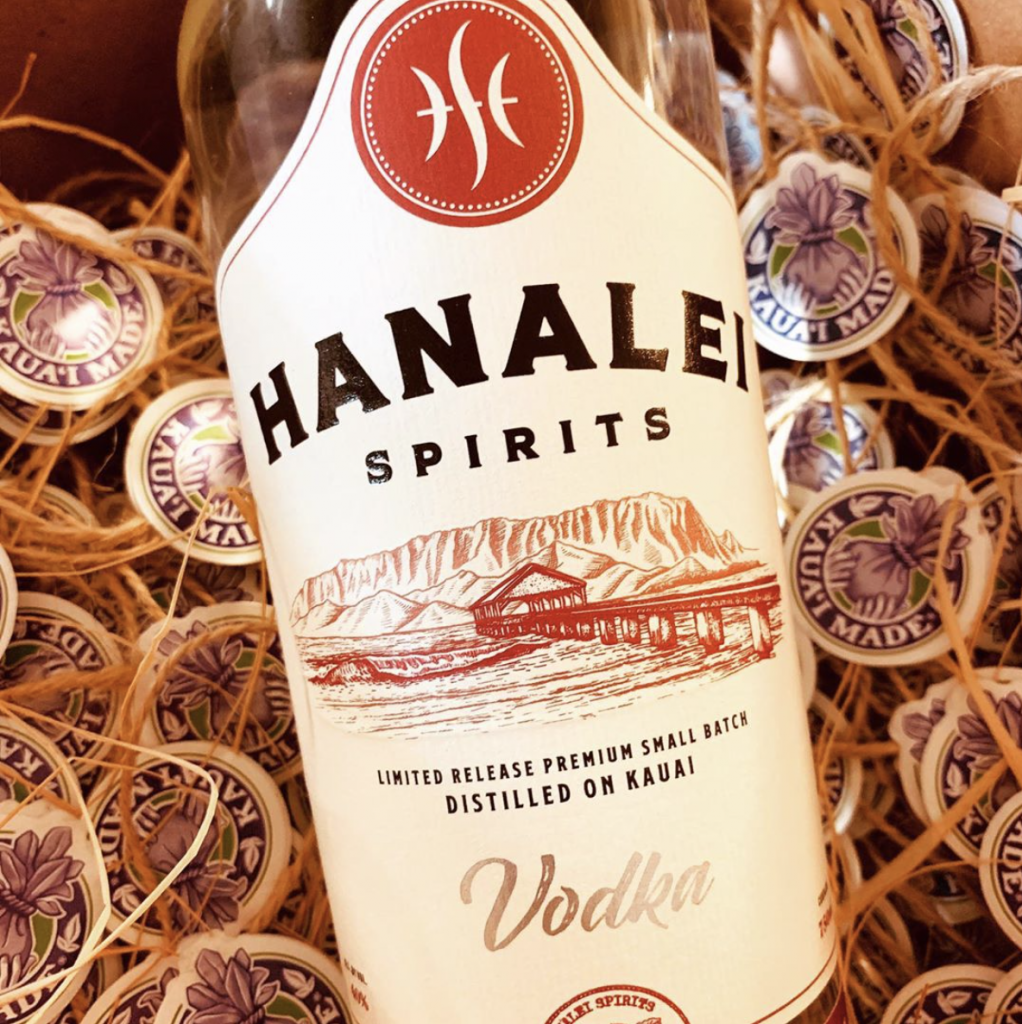 One of their most fascinating creations is that they are the first to legally produce taro vodka. They source their taro product from a local farmer, Hobie Beck at Waikoko Farms. Their desire to be sustainable encouraged them to find local produce. Traditionally alcohol was made out of local produce.
For example, typically all the apples would ripen at the same time in an orchard and the farmer would not be able to get them all to market. At that point, a distiller would come in to make apple brandy as a method of preservation.
But achieving big goals also has its many challenges. Distilling is such a new industry for Kauai, there are no clear guidelines to follow, which created challenges working with the government regulations and approvals. With patience, intuitive thinking, and teamwork, they have paved a new path for Hanalei Spirits and others. While it's difficult to compete with the larger brands, they believe that by staying true to their goals of quality versus quantity, using local produce, and self-distribution, they will be successful.
Even amongst their busy schedules with three business and three children, Grant and Vindi always find a way to give back to the community. They have been donating product to a variety of local organizations for fundraiser opportunities and are secure in their long-term commitment to doing their part to help maintain a healthier balance between Hawaii's agriculture and tourism industries.   
"Every day you are presented with new challenges and opportunity for learning," says Vindi. As they reach their milestones such as receiving permits, selling their first bottle, acquiring a new store or restaurant account, they find it an opportunity to celebrate – typically with their spirits.
For more information about Hanalei Spirits visit their website at here and follow them on Instagram @hanaleispirits! As a heads up, be on the lookout for their new Ulu Vodka that is made from local breadfruit this fall! Cheers!