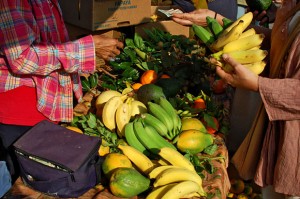 ** To access SNAP & DA BUX for local food, visit our food hub program at KauaiLocalFood.com **
As of July 1st, 2016 this program will be canceled due to funding cuts from the County of Kaua`i. Please use your tokens by the last week of June!
___________________________
You can now use your EBT card to purchase "Kauai Cash" tokens to spend at participating farmers market vendors! Malama Kauai, in partnership with the County of Kauai's Office of Economic Development, provides processing for EBT / SNAP, the Supplemental Nutrition Assistance Program, at select Kauai farmers markets.
The initial five markets we provide services at are:
Every week:
Kapa'a Market – Wednesdays  starting at 2:30pm
Lihue Market – Fridays starting at 2:30pm
Kilauea Market – Thursdays starting at 4pm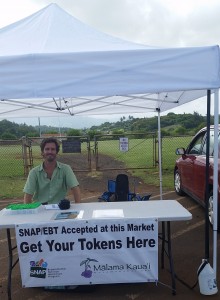 First two weeks of the month (on or after the 5th):
Kekaha Market – Saturdays starting at 8:30am
Times listed are 30 minutes prior to the official opening time of the markets. We start services early to allow for folks to line up with their favorite participating vendors along with others that may be using cash. Only the Kauai Cash tokens are eligible – all former tokens, including wooden ones, are not accepted.
Having these benefits available at farmers markets provides access to fresh, healthy and local foods – supporting those that most need them while giving our farmers and local agricultural product producers additional revenue. We are proud to support this program for the people and farmers of Kauai. This program is currently funded by the County of Kauai's Office of Economic Development for 2014 and continued operations is subject to securing continued funding.
Food Vendors Agreement – Vendor Agreement to sign up and become an authorized SNAP vendor with the program!
Questions About SNAP/Food Stamps?
Hale Hoomalu has walk-in appointments available to answer questions and provide assistance with SNAP applications on Tuesdays and Wednesdays. Nana's House in Waimea also accepts walk-ins for SNAP assistance. (Kapaa, 821-2520; Waimea, 338-0252). To find out if you qualify for EBT/SNAP or to enroll, you can also visit the SNAP Program Website, call 808-274-3371, or go in-person to East Kauai Processing Center, 3060 Eiwa Street, Room 103, Lihue, HI 96766.