As graduation caps fly, mountains of lei are given, and teachers and students say a hui hou (until we meet again), we're able to reflect on the past Farm to School & ECE project with fondness. Thanks to the Johnson ʻOhana Foundation, Hawaiʻi Dept. of Health, and the Kauaʻi Office of Economic Development just over $39,000 worth of local food has been gobbled up by kids across Kauaʻi.
On the north shore, Kīlauea Elementary PTSA member and mākua (parent), Lea Weldon ordered $1,000 worth of fruits, vegetables, juices, nuts, and jerky every week for two consecutive months. Lea would spend early Thursday mornings loading up her "Aloha Cart" and then visit every classroom on campus to drop off the goods. All of the students would crowd around her with big smiles and helping hands, carrying carrots and cucumbers, racks of bananas and bags of luscious fruit back into class to be divvied up and devoured.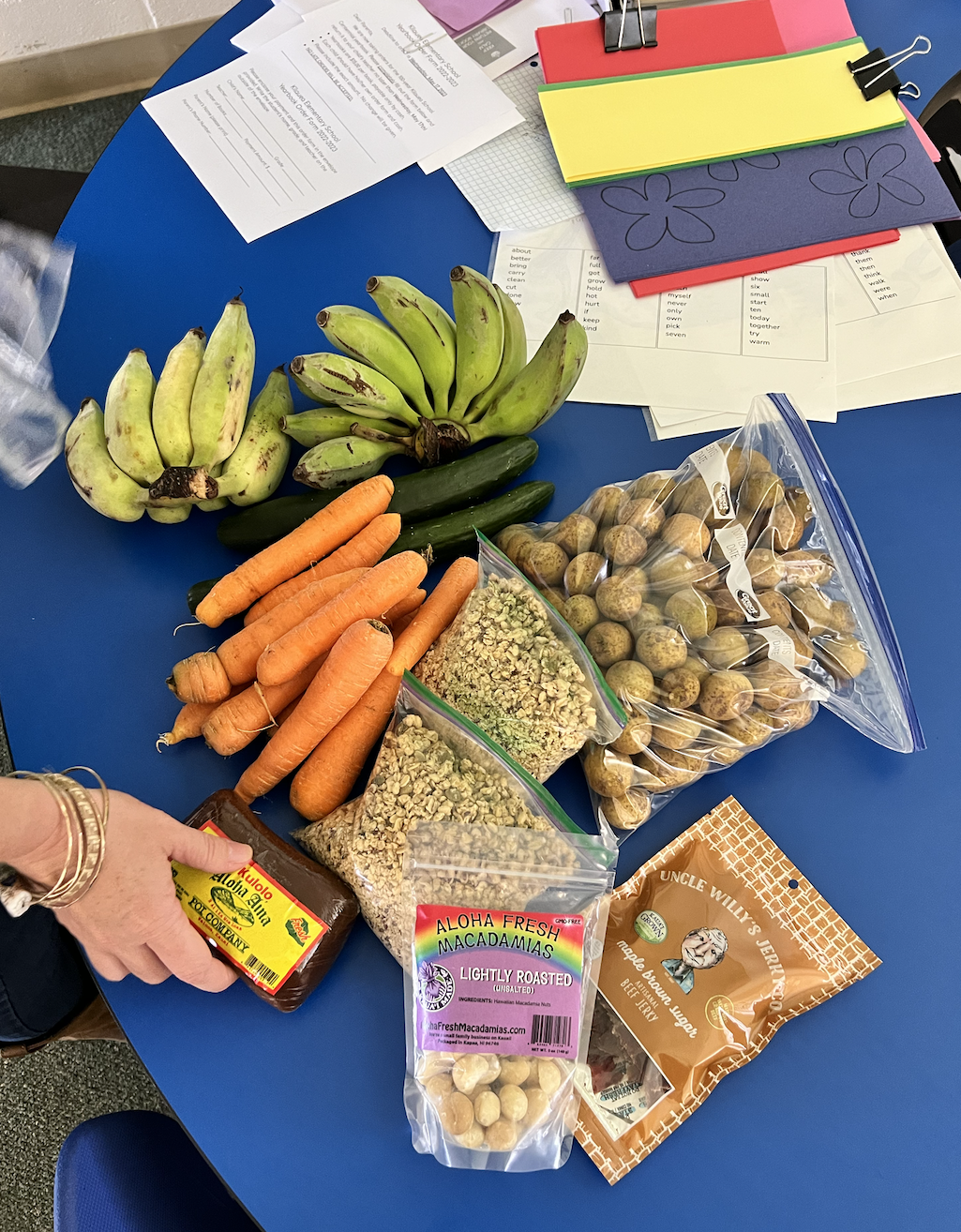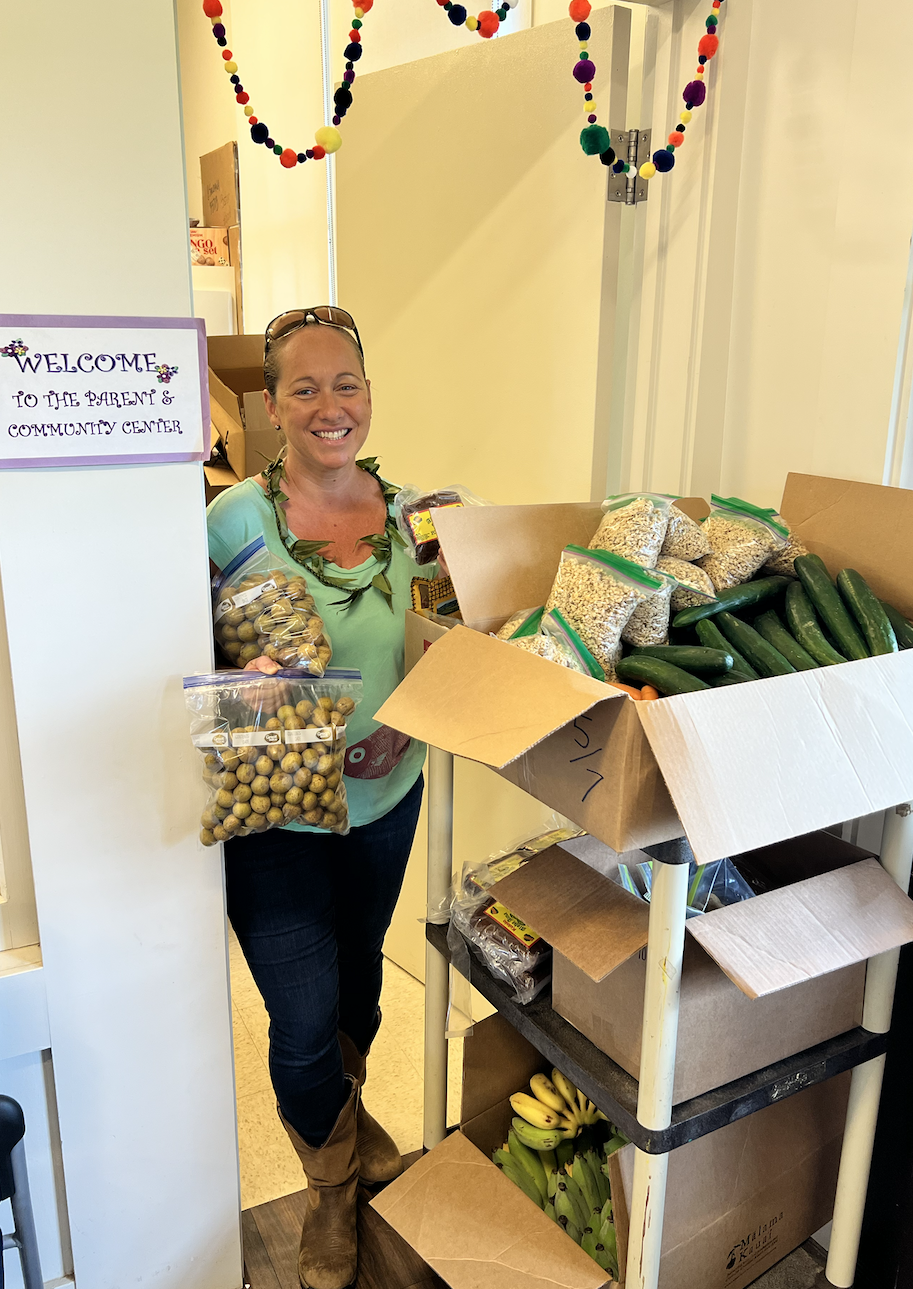 Hanalei Elementary kept their Farm to School program simple and effective, picking out ready-to-eat fruit like banana, longan, oranges, mango, and rambutan which the kids could peel and eat easily. During recess, tables of fruit were set out and students were encouraged to stop by for a snack if they were hungry. Making a grab-n-go station like this was a great way to literally keep fresh local produce on the table despite teachers and school staff being extra busy during the tail end of the school year.
In the moku (district) of Puna, Pūnana Leo o Kauaʻi continues their Farm to ECE program after using all of their credits. The school kahu (guardian, administrator), Waialohaokalani Kaʻauwai, works the kula (school) budget to include bi-weekly orders of fresh lettuce, poi, kalo paʻa (pre-cooked, peeled kalo), papaya, eggs, and much more! The staff kōkua (help) when our delivery driver swings by and Kumu Kawehi leads the storage and preparation efforts. She serves up all kines including smoothies, "which the keiki love, especially when we add poi", shares Kawehi. The keiki also get to be apart of the prep, slicing maiʻa (banana) for ʻaina kakahiaka (breakfast) or juicing ʻalani (oranges) for 'ai māmā (snack). The kiddos latest favorite is a keiki-sized salad bar, because at this age children love to flex their independence by picking and serving themselves and are so proud of the food they made.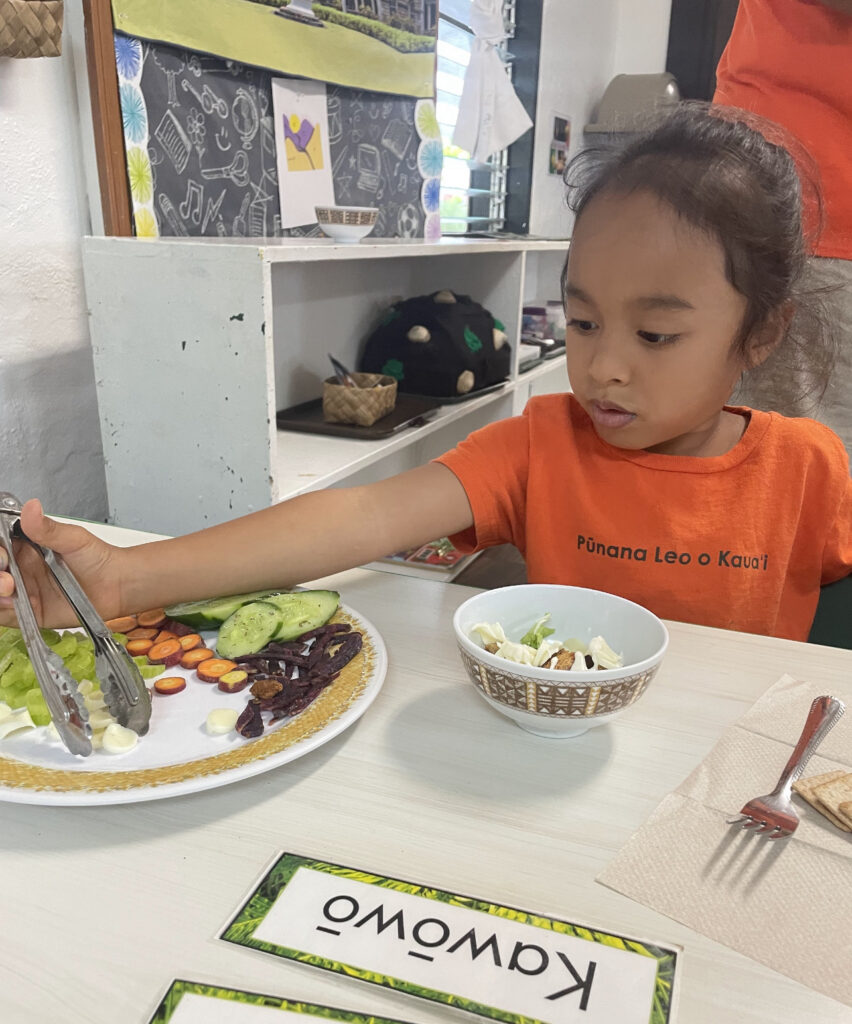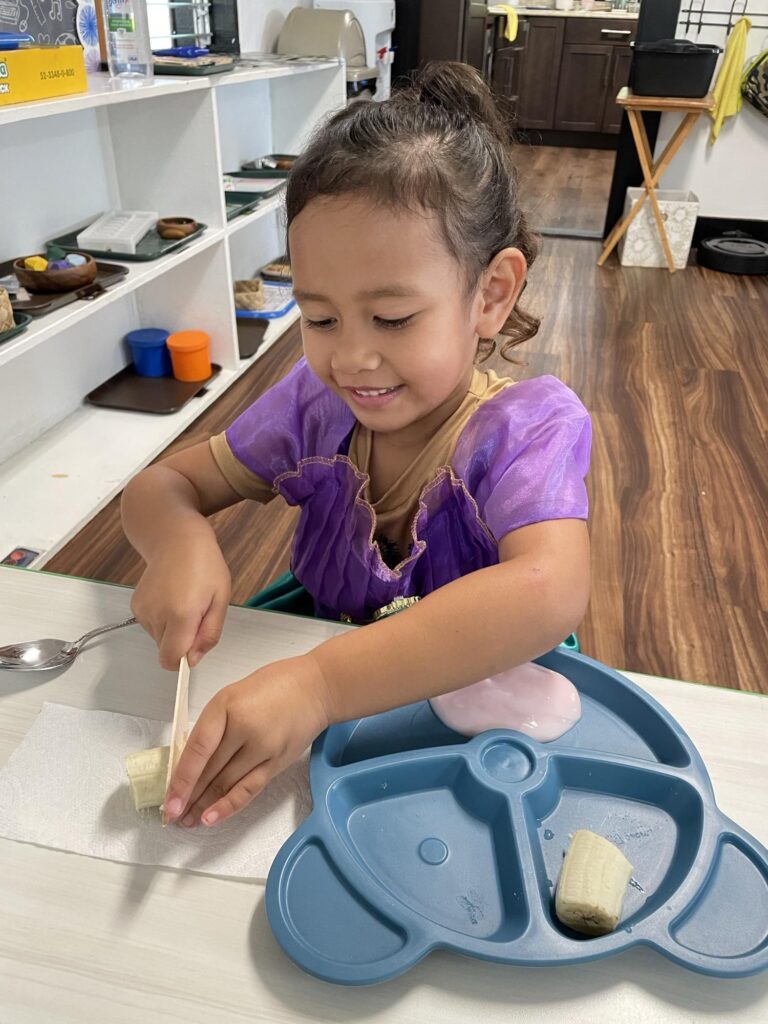 ʻAe Kamaliʻi Preschool is lucky to have Miss Crystal Braun, who prepares breakfast, snacks, and lunch for all 40 keiki every day! Miss Crystal is a superstar at food preparation using tons of local ingredients throughout the year like ground beef, eggs, lettuce, red onions, cucumbers, starfruit, tangelos, and ʻulu (breadfruit). She recently whipped up a feast of ʻono grinds for their schools summer celebration. Thanks to Miss Crystal keiki dined on succulent kalua pig, buttery baked ʻulu, lomi tomato, fresh fruit salad, and poi with a little brown rice and mac salad to round out the festivities.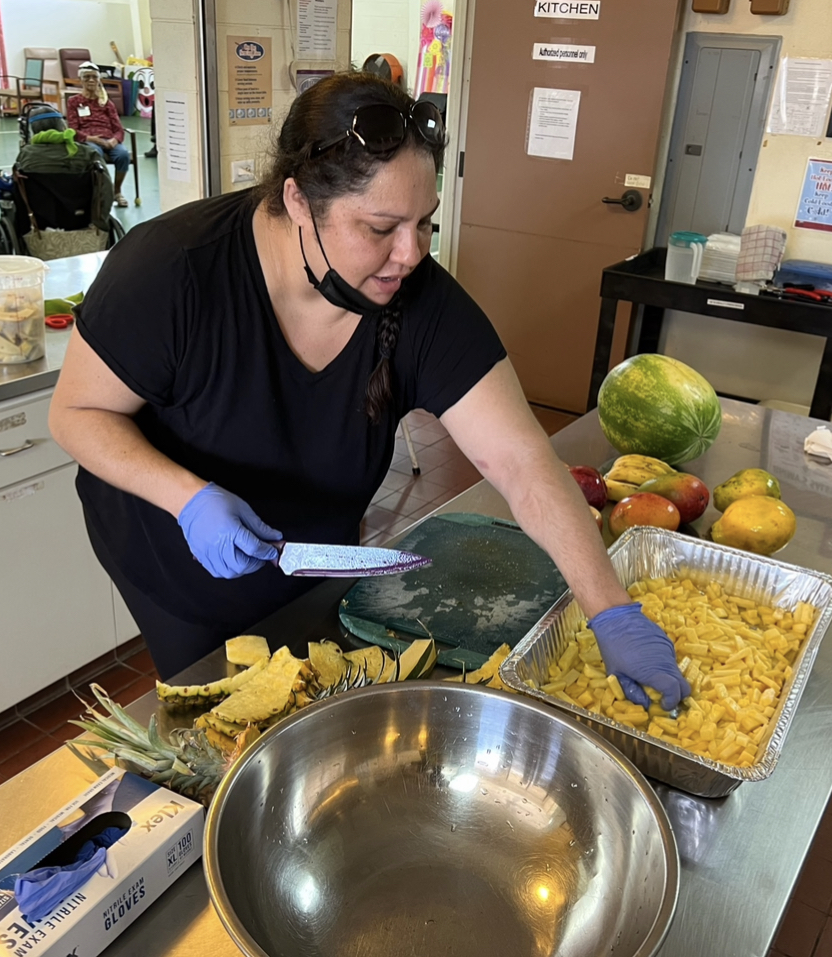 Līhuʻe Hongwanji also loves to serve up salad and smoothies to their keiki, sharing that the kids love the cherry tomatoes and colorful varieties of lettuce. And we canʻt forget about our wonderful aunties who watch kids in their homes. Auntie Gini of Merry-Go-Round Preschool loves "the produce bag, it's always healthy and fun and the variety helps me get things I usually wouldn't or don't buy." Trisha Rivera of Hale Keiki o Anaholaʻs favorite thing about ordering from KauaiLocalFood.com is "that it (her order) gets delivered to my house!" She also remarks on the money she saves buying weekly supplies of fresh fruits and vegetables from the food hub. To avoid being wasteful, any little amount that the kids donʻt eat goes to feed their mule. Aunty Brenda at Homesteads Keiki Care has the golden touch when feeding her kids, sharing that "they're good eaters, they eat everything I give them." She also enjoys that she can order online from her phone and doesnʻt have to go to the grocery store. Then when her order arrives MKʻs staff are "always friendly, no grumpy people here!"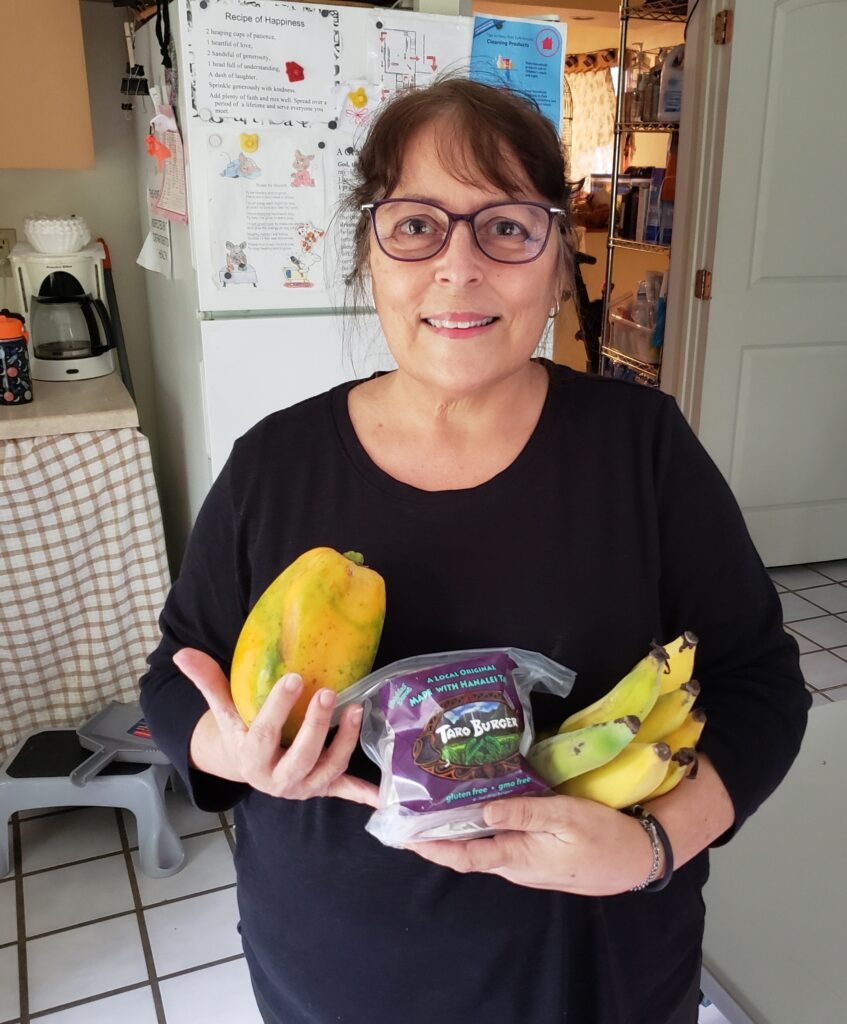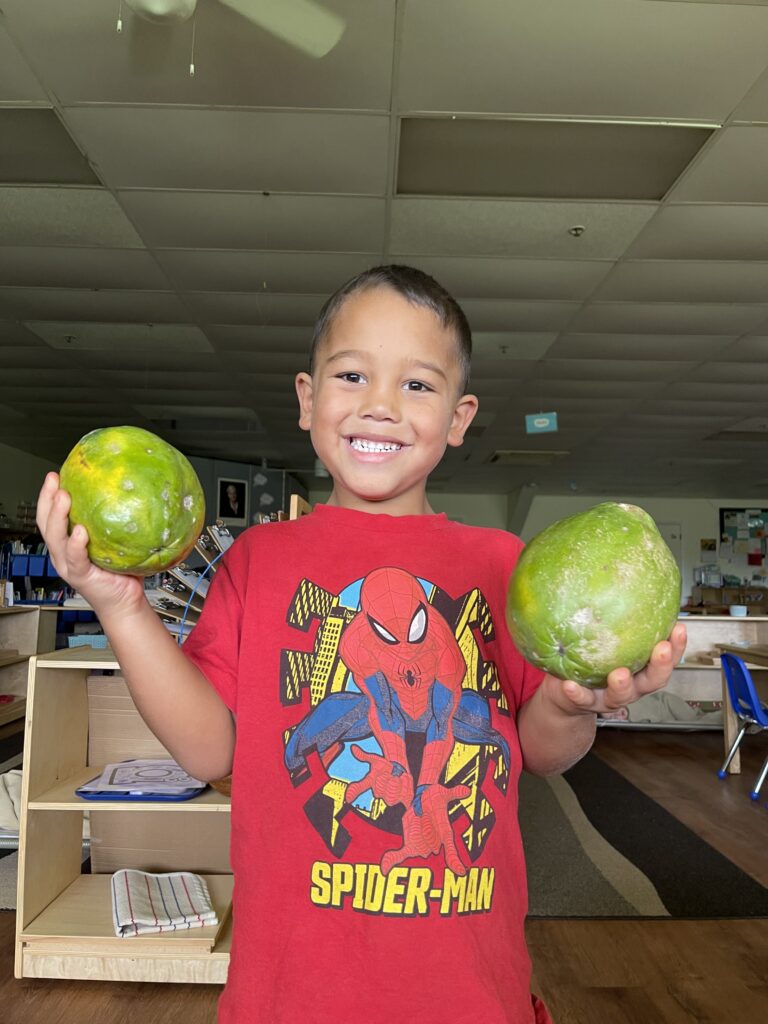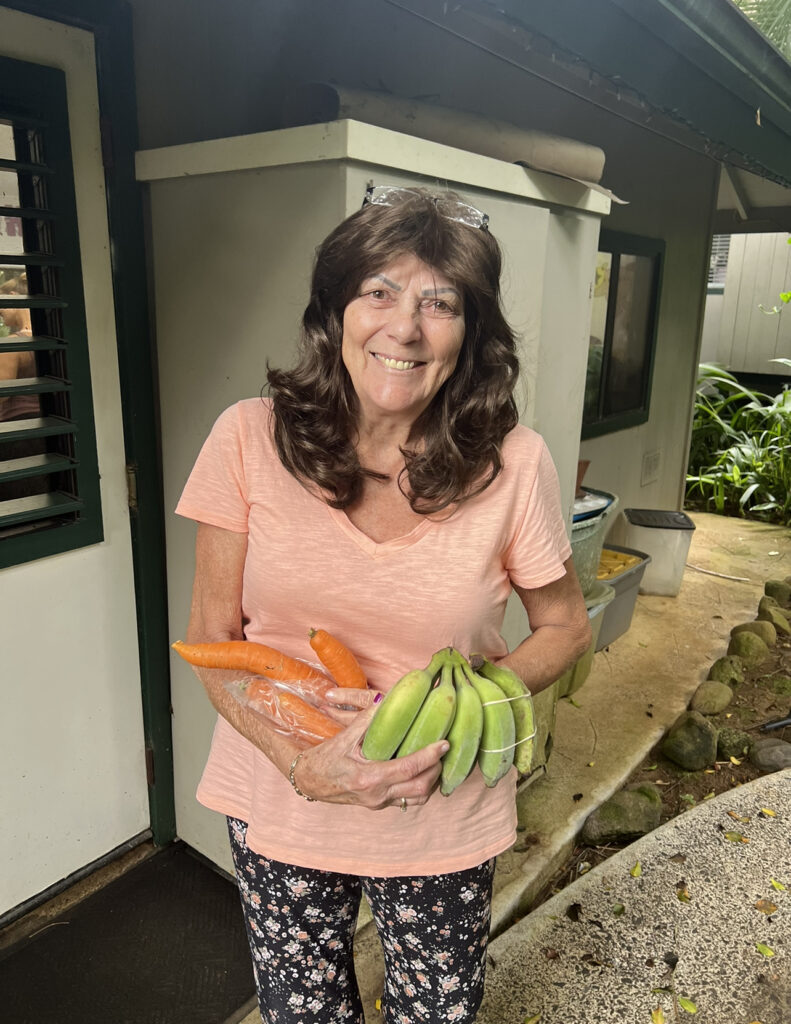 On the Westside, Uʻilani Corr-Yorkman and her kumu at Hāloalaunuiākea Early Learning Center took their kids on a farm huakaʻi (field trip) to Kumano I Ke Ala. There they fed pigs and planted a variety of seeds. Then all the kumu and 3-5 year olds walked up Makaweli valley to visit the beautiful loʻi kalo (taro fields) planted and tended by the Kumano gang! Uʻi has been another big supporter of our Farm to ECE program, making weekly orders that "only takes a few minutes." Uʻi continues to share, "we love the ease of ordering and delivery and that everything comes from local farmers and producers. I love that more money goes into the Kauaʻi economy and community."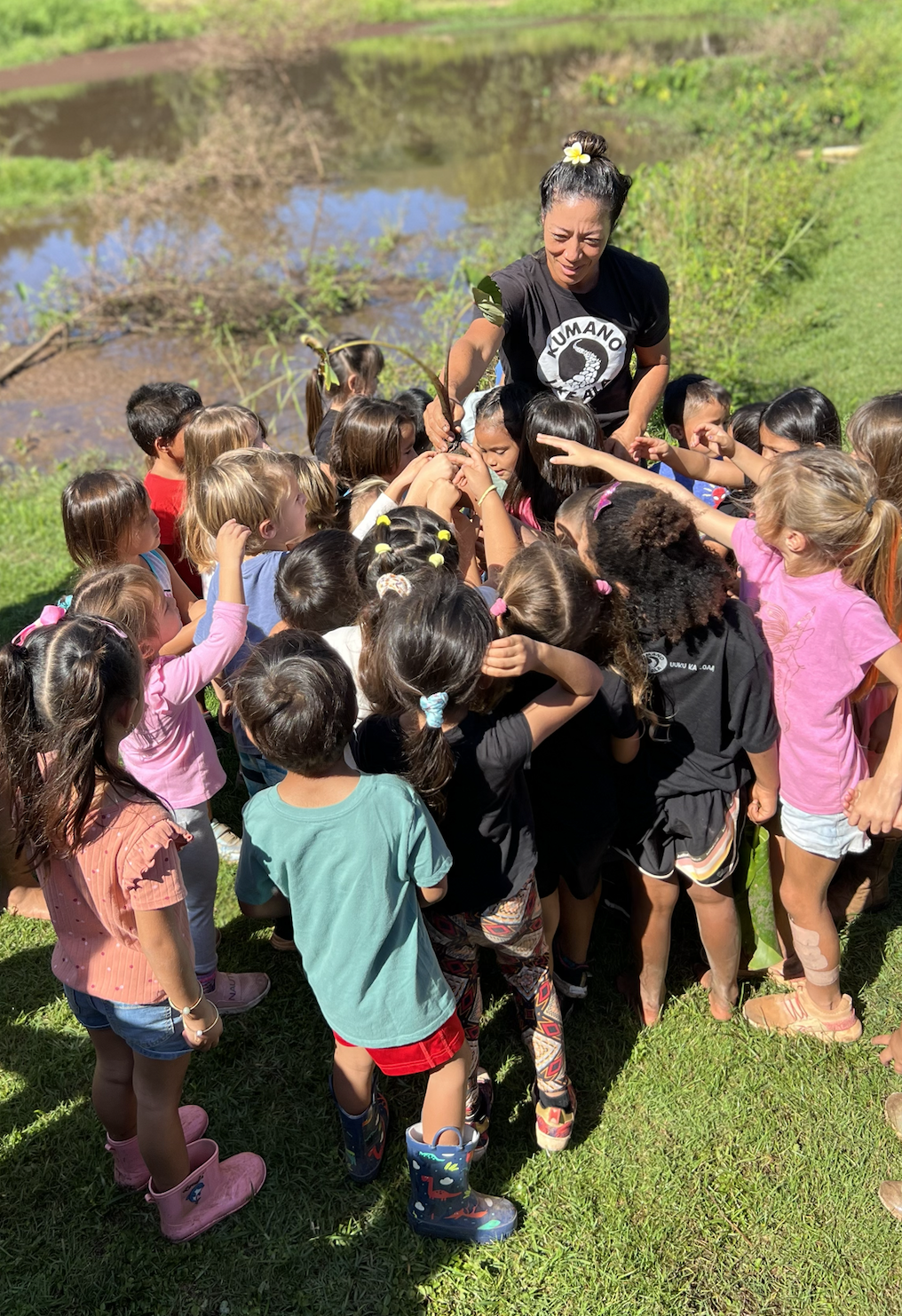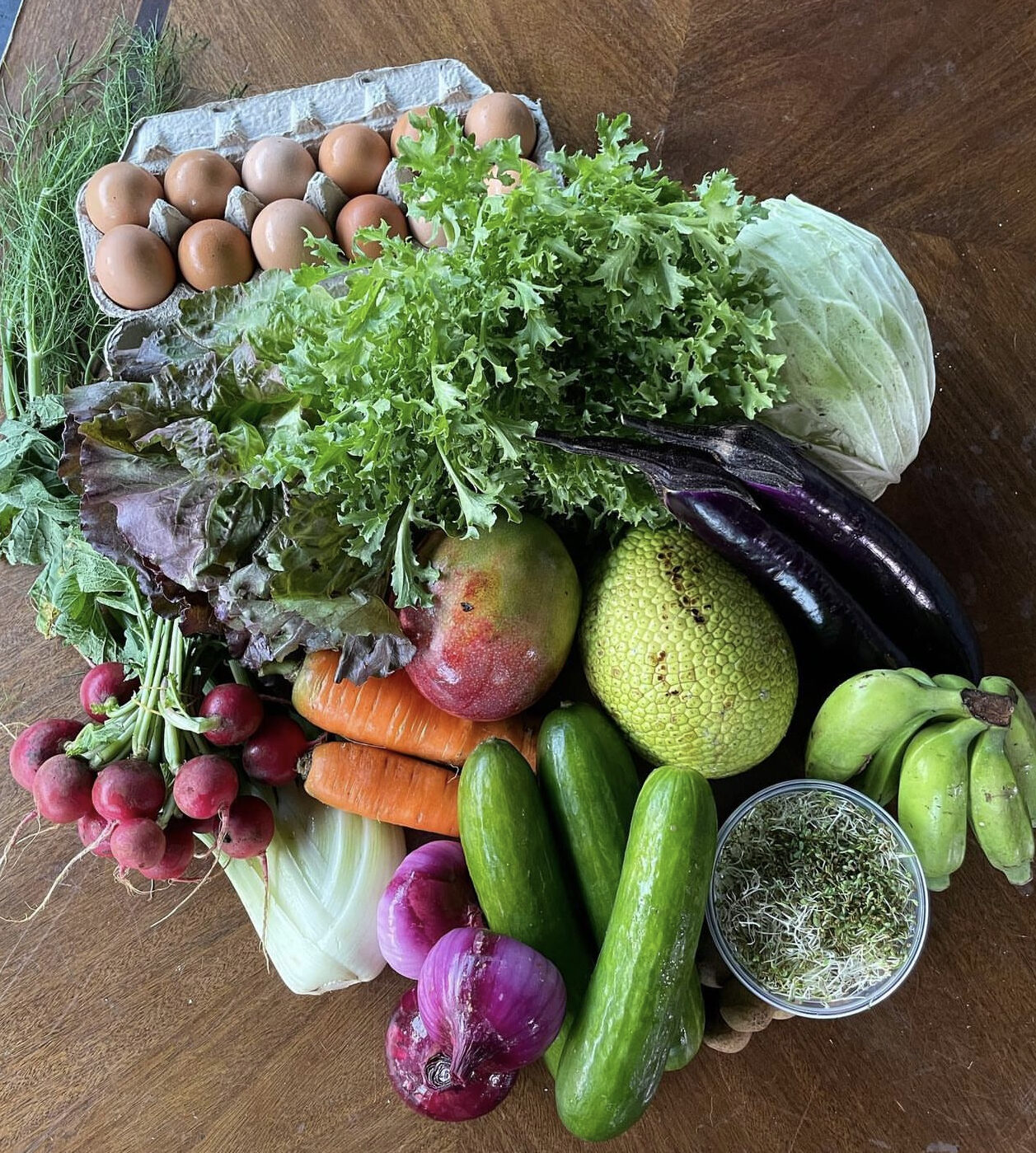 Kekaha Elementary opened up their Farm to School opportunity to their teachers, letting them choose to submit orders and then conduct taste tests with their children. Students then wrote about the experience. One keiki shares, "my favorite thing that I loved is rambutan and papaya… I had like 20 pieces. But I was also proud of myself because we had bagels with brie cheese, sunflower sprouts, and cherry tomatoes… I didnʻt like it but I tried it." Another keiki quipped, "I loved all of them."
Waimea High School Culinary teacher, Kui Souza, brought in hundreds of pounds of local ingredients for his culinary students to test recipes and expand their palettes. They tried everything from mangosteen to herb cream cheese and whipped up tasty dishes like Thai coconut curry, chicken laulau, kulolo bread pudding and tons of salads. Student, Elizabeth Toki, based her senior project on Overcoming Food Insecurity and organized free food distributions during recess for her classmates with the food Mr. Souza ordered. After some initial hesitancy, kids got to know and love the free mea ʻai (food) being shared including treats like sweet potato haupia parfaits and papaya boats!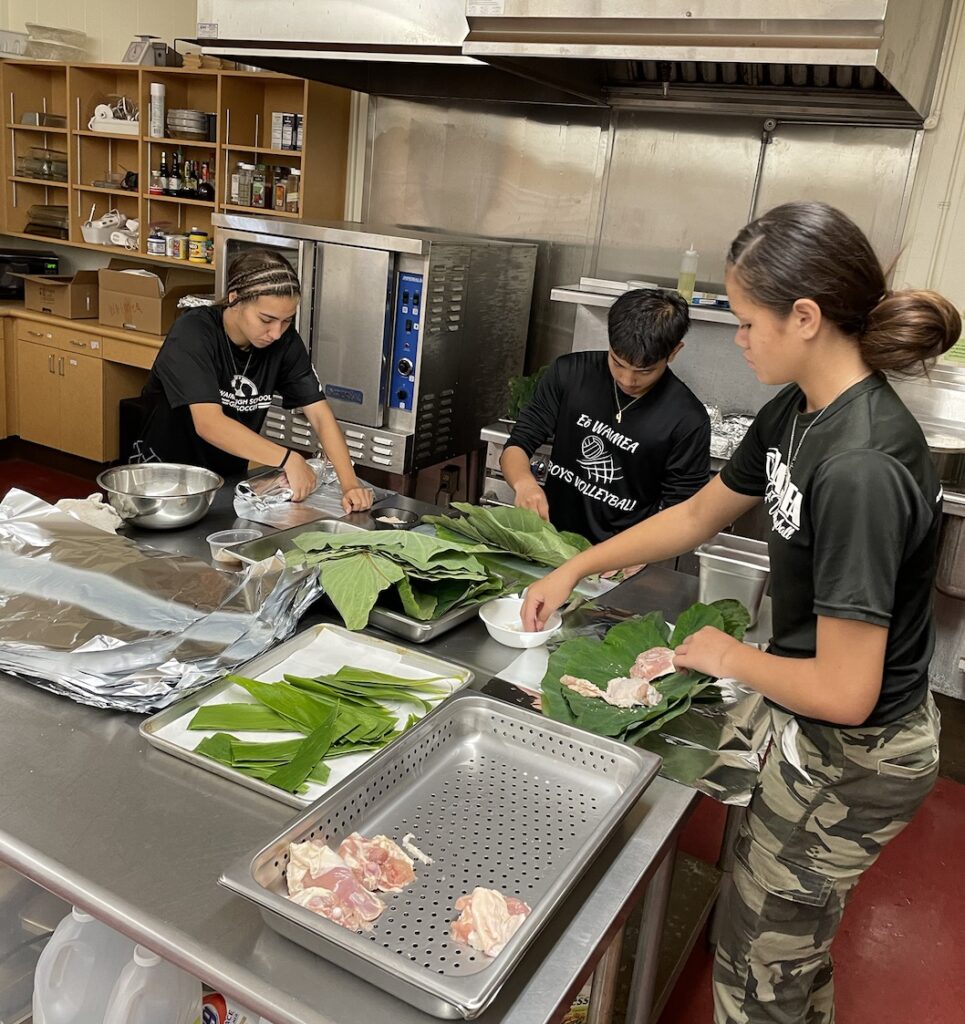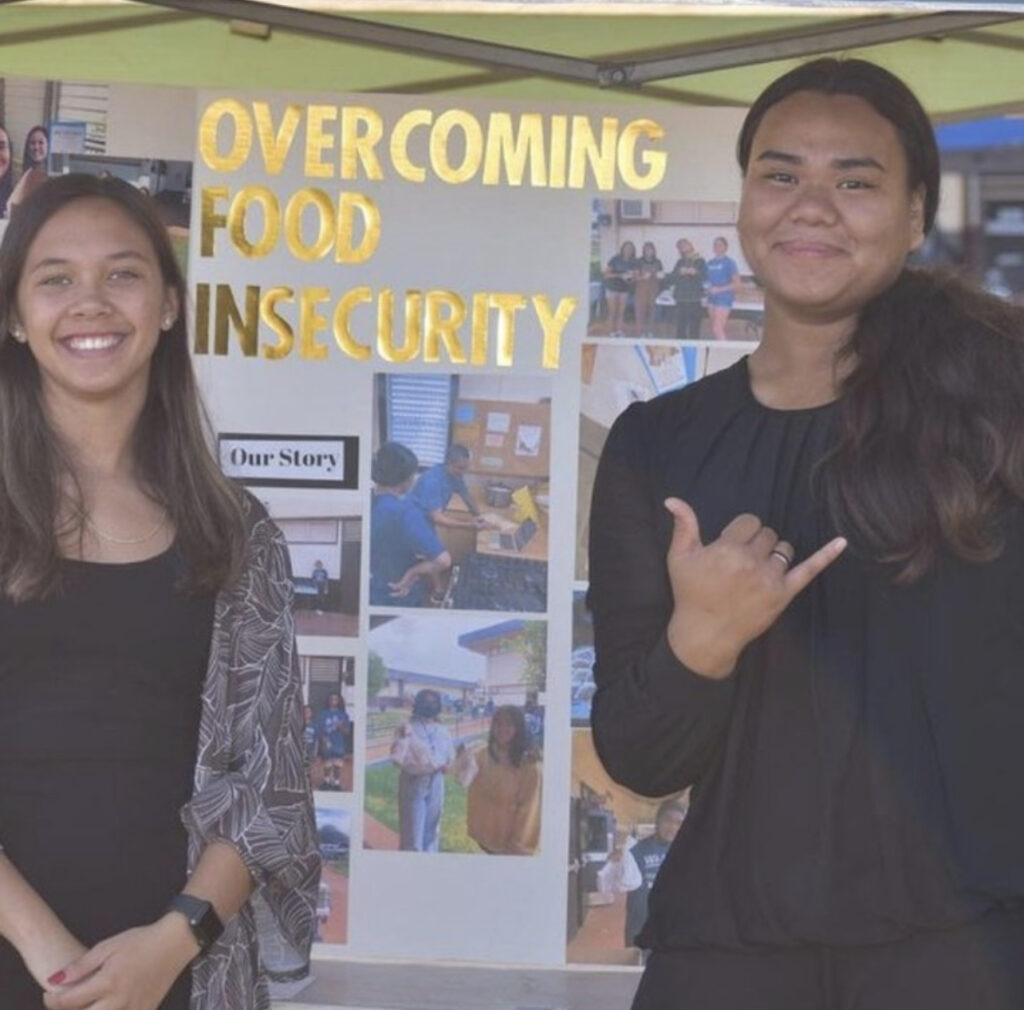 Ke Kula Niʻihau o Kekaha also has one wonderful kitchen staff, 'anake (auntie) Mei, preparing all the meals for their haumana (students). She was surprised when she saw the selection our food hub had to offer, "oh wow, I didn't realize you guys had such a vast amount of different products." She was able to tailor her monthly menus to incorporate local ingredients like breakfast kalo patties, kale, cauliflower, green beans, okra, eggplant and pre-cut fresh frozen ʻuala (sweet potato) fries. Mei exclaims, "it was definitely a great benefit to have incorporated the local ingredients into our school meals."
All in all it's been an incredibly fulfilling project with many, many outstanding participants. Mahalo to our funders and the teachers, PTSA members, and school staff for partnering with us to make this happen! Seeing all of these children light up when gifted fresh food was such a joy!!
Now we turn our gaze towards summer sharing just over $7000 with 13 summer program sites serving over 600 kids from Hāʻena to Kekaha. Coupled with our 3rd annual Kaukau 4 Keiki Summer Meal Box program serving another 400 in-need keiki, weʻre excited that Kauaʻi grown food will make it onto plates and into bellies all summer long.