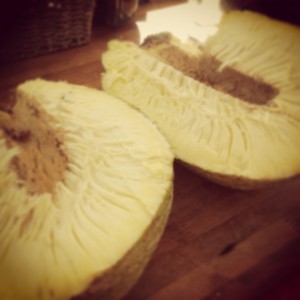 Ulu has a way of beckoning to be eaten – ripe or not this valuable staple of the tropics and Central America has incredible culinary uses from sweet pies to salty chips to bread flour.
I tend to use breadfruit in the simplest of ways preserving its unique sweetness and soft pudding like texture. Today it was a pancake batter in and of itself. With the addition of a few eggs and baking powder for leavening, these were no fuss, incredibly fool proof and simply delicious. Have fun and play with adding different spices. I added nutmeg and cinnamon.
Did you know the Ulu tree can grow up to 85 feet tall with a trunk 20 feet in diameter?
Another interesting historical tid bit is that Ulu remedied a famine in Jamaica between 1780-1786 which proliferated its dispersion throughout other parts of the world.
Speaking of remedy, aside from its culinary uses, Ulu has medicinal properties as well – the leaf has been used to treat blood pressure, asthma, thrush and some skin infections.
Go Breadfruit! We praise you!
Ripe Ulu Pancakes

Print recipe
| | |
| --- | --- |
| Allergy | Egg |
| Dietary | Gluten Free, Vegetarian |
| Meal type | Appetizer, Breakfast, Lunch, Side Dish |
| Misc | Child Friendly |
Ingredients
1/2 Large Ripe Breadfruit (The fruit will be soft and spongy to the touch and the skin will be browning. Cut and prepare the whole fruit, reserving the other half for another time.)
3 pastured eggs
1.5 teaspoons Baking Powder
dash spices of your choosing (cinnamon, nutmeg, garam masala, ginger...curry...whatever flavors you're going for.)
Marmelade & Honey (If you're going for sweet, goat cheese or tapenade if you're going for savory)
Directions
Step 1
Prepare your Ulu. Discard the seed which will slip out of the fruit when it's ripe. Cut away the skin and compost. If your Ulu was large, only use half. If it was small or medium use the whole thing.
Step 2
Cut fruit into large chunks and put in blender or food processor. Add your eggs, baking powder and seasonings. Blend until smooth. (You shouldn't need any extra liquid)
Step 3
Heat coconut oil, butter or animal fat in a pan over medium high heat. Add 2 large dollops of batter and allow to cook for 1-2 minutes per side.
Step 4
They'll start to look like this
Step 5
Plate as they're ready and top with marmalade, honey, sliced fruit or savory ingredients such as cheese, tapenade and pesto. Enjoy!