I often buy nuts and seeds in bulk because I prefer making their butters from home. Despite going through jars & jars of this salty, slightly sweet and filling decadence, nut butters aren't the only thing I enjoy making (and eating). That sans-gluten, raw vegan, sprouted granola in me screams for  attention now and again and I must reason with pates and pesto's and I'm always happy when I do.
Generously soak the nuts and seeds in filtered water anywhere between 2 to 7 hours to begin their superior digestive process. Use fresh and raw ingredients as they're available – garlic, chives, ginger, turmeric, chilies, basil, parsley etc, spices from the cabinet – cumin, coriander, sea salt and black pepper, seaweeds – dulse & kelp can be a nice iodine rich addition. Whirl in the Cuisinart with juiced citrus, apple cider vinegar, tamari or soy sauce and a splash of neutral oil such as virgin olive or grapeseed. Small chopped veggies such as celery, carrots, bell pepper are a fabulous afterthought and a few remaining greens from the hydrator or a slim pick from the garden and you're just about there. Grab anything from kale, lettuce, malabar spinach or wild hibiscus and scoop a moundful of pate onto the inside and top with shredded root veggies (beets, carrots, daikon etc) and sprouts if you have any.  Fold the edges toward the inside. A lovely dipping sauce is the best accompaniment. Whip something up from the condiments section of this blog or grab a leftover marinade or dressing from the fridge. The diversity and ethnic avenues you can travel are many so choose the region of the world you wish to go. This "recipe" is more a template than anything. For more detailed, step by step instructions, read below. Aloha!
Seed & Nut Pate

Print recipe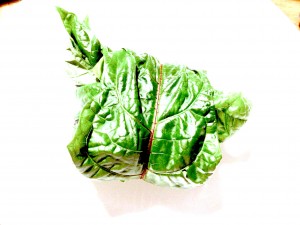 | | |
| --- | --- |
| Allergy | Tree Nuts |
| Dietary | Vegan, Vegetarian |
| Meal type | Appetizer, Lunch, Salad, Snack, Starter |
| Occasion | Casual Party |
Ingredients
2-3 cups Raw Organic Nut/Seeds (2 hours for seeds such as sunflower, pumpkin and nuts like walnut and macadamia. Longer for almonds)
1-2 clove garlic
2 " knob of fresh ginger
1 teaspoon each spices (ground cumin, corriandor, curry, turmeric etc)
2 tablespoons Tamari, Soy Sauce or Shoyu
1/4 cup fresh lemon or lime juice (can substitute with a little less apple cider vinegar)
drizzle neutral oil (extra virgin is my go-to although a bit stronger than others)
Note
This is the template. From here anything goes. Add a variety of spices. Add chopped veggies before or after processing. Leave out the bulkier greens for dressing the wrap and use the simpler ingredients for mixing. Because it's versatile, decide what flavors your craving and emphasize them in your dipping sauce. Asian flavors - sesame oil, soy sauce, citrus, a little honey, maybe blending in some miso. Mediterranean flavors - olive oil, balsamic vinegar, citrus, honey, sea salt, chopped basil, a little mustard maybe. Mexican flavors - olive oil, citrus, cumin, oregano etc.
Directions
Step 1
Soak nuts and seeds for no less than 2 hours, maximum 7 hours in fresh water.
Step 2
Drain off water and add all ingredients to your Cuisinart or food processor. Blend until incorporated.
Step 3
If adding chopped veggies, empty pate into a large bowl and add an array of veggies and mix.
Step 4
Take leaves of kale, wild hibiscus or lettuce (anything that forms a cup or is pliable) and add pate, extra herbs and sprouts and fold.
Step 5
Eat as is or prepare a dipping sauce. Enjoy